Xmas Countdown – St. Nicholas Day (December 5 – 6)
December 3rd, 2015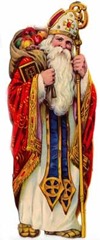 St. Nicholas Day is celebrated in parts of Europe on December 5th – 6th.   Many children receive gifts and treats in the shoes they left out the night before.
To learn more about St. Nicholas Day, check out these articles we've posted…
Below you can learn some St. Nicholas Songs and Rhymes…
You can find more info about the holiday at the St. Nicholas Center.
Happy St. Nicholas Day!
Mama Lisa
Image: Sheet of St. Nicholas Images by German manufacturer L & B circa 1900.
This article was posted on Thursday, December 3rd, 2015 at 4:19 pm and is filed under Countries & Cultures, Germany, Holiday Songs, Holidays Around the World, Luxembourg, Netherlands, St. Nicholas Day, St. Nicolas Songs. You can follow any responses to this entry through the RSS 2.0 feed. You can leave a response, or trackback from your own site.
3 Responses to "Xmas Countdown – St. Nicholas Day (December 5 – 6)"
Adriana Larkin Says:
November 15th, 2020 at 11:28 pm

Hello,
I am a painter and I was wondering if I have permission to use your image of St. Nicholas to paint in watercolor?
Thank you so much!

Lisa Says:
November 16th, 2020 at 1:24 pm

Hi Adriana, According to a site that has the image, it comes from circa 1900.

Adriana Larkin Says:
November 16th, 2020 at 3:34 pm

Thank you for your reply.
Leave a Reply