Sinterklaas & St Nicholas' Day in The Netherlands
December 5th, 2018
By Marianne Kuiper Milks
Today is Sinterklaas' birthday. Born in the 3rd Century in Mira, Turkey, Bishop Nicholas was sent to Spain by the church. On his birthday, December 5th, he gave gifts to the children instead of receiving them. His companion Piet was a Moor. The Moors were prominent in Spain (as long time rulers) and somehow got involved with the gift-giving.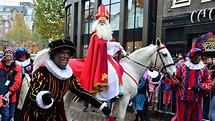 This is a very special day for Dutch children. They celebrate in schools, receive candy, and sometimes they get a small gift in their shoes in the morning. Like with Santa, children 'know' he is real (up to a certain age) and wait for his arrival for a long time. He rides the roofs at night on a horse, not a flying sleigh, and listens through the chimney if you've been good or bad. He writes it all in the big book… have you been lief (sweet), or stout (naughty)? (I was usually stout…) And Piet does that job and reports to him for weeks up to this great date.
If you're lucky, he will come to your house that evening, or at least knock on the door (LOUDLY!!) and leaves a bag filled for the family. However: he also comes occasionally to Dutch-descendant children in other countries. Our Sander Martijn, at age 5 or 6, was the lucky one: running out the back door he actually saw Sinterklaas (Saint Nicholas) jump his horse over the back fence and gallop away!
Say nice things to each other, do something kind. It's the day for happiness, surprises and warm joy.
Many thanks to Marianne Kuiper Milks for sharing! -Mama Lisa
Leave a Reply