St. Nicholas Day in the U.S.
December 8th, 2014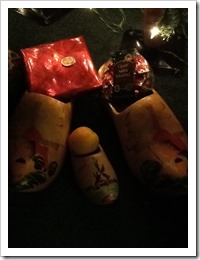 The feast of St. Nicholas is celebrated by some people in the US, usually those with German ancestors.  The holiday takes place on the night of December 5th to the morning of the 6th. Shoes or stockings are left out for St. Nick to fill with gifts.   Here's what Donna Berich wrote about it from the U.S.…
"Happy St. Nicholas Day!   St. Nick came and left in our wooden shoes, a clementine – to remind us to be sweet, chocolate gold coins – to remind us to give, a small gift, chocolates, something warm and candy cane. This has been a tradition since I was a little girl."
Thanks for sharing your tradition and pics with us Donna.
Happy St. Nicholas Day!
-Mama Lisa
You can learn more about St. Nicholas Day Traditions here.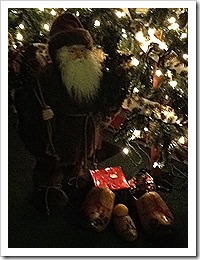 Leave a Reply