Christmas Songs of the Philippines
December 9th, 2014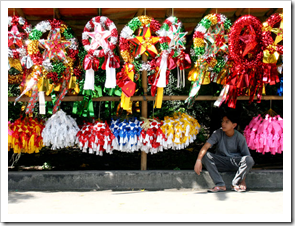 Ayako wrote to me about two popular Christmas songs from the Philippines that she learnt recently. Here's her letter:
Hi, Lisa

I learned these Christmas songs from my English teacher.  She is from the Philippines.

She told me that about 80% of Filipinos are Catholic and go to church about for 2 weeks ahead of Christmas (December 25th).  People pray to god in the early morning before they go to work for 2 weeks.  The weather is hot there in December, too.

She told me two songs which sound beautiful.  Here are links to the songs in Tagalog, with English translations and videos…

My teacher lives in Japan now, but still goes to church once a month.

It sounds very religious and quiet to me. It is different from Christmastime in Japan.  Most of us are not Christians or Catholic, but we cerebrate Christmas as a seasonable event.

All shopping malls are decorated with Christmas trees and with ornaments. It looks beautiful, too.

I hope you enjoy these Christmas songs from the Philippines.

Ayako
Thanks so much for sharing these songs with us Ayako!
Merry Christmas!
-Mama Lisa
Note: We just added a well-known Filipino Christmas Carol to Mama Lisa's World called Maligayang Pasko.
Image from Wikipedia: "Paról (Christmas lanterns) being sold during the Christmas season in the Philippines. The paról is one of the most iconic and beloved symbols of the holiday."
Leave a Reply