Los amuletos Nenette et Rintintin
June 16th, 2012
Nénette et Rintintin eran al origen muñecas para los chicos concebidas por Francisque Poulbot y fabricadas en Francia desde 1913. El muñeco es Nénette, la muñeca es Rintintin (a pesar de lo que se podría pensar). En la tradición sentimental gala, se conciben como una pareja.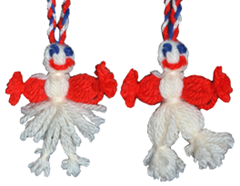 Al comenzar la primera guerra mundial, la gente empezó a fabricar muñequitas Nénette et Rintintin con hebras de lana. Se las daban a los soldados como amuletos. Los parisinos también las llevaban como talismanes durante los bombardeos.
Estas muñecas eran pequeñas para poder sujetarlas a las prendas, sobre los sombreros, llevadas al ojal o alrededor del cuello como un collar. Se podían hallar en varios colores pero más a menudo eran hechas con los colores azul-blanco-rojo de la bandera francesa. También se podían hallar en otras materias como la paja o la seda.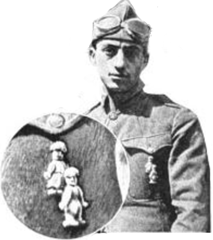 Monique, desde Francia, escribió: -Ahora recuerdo hacer unas de estas muñecas. Ya me veo cosiendo ojos y una boca en la cara, pero ¡qué lejos!" Cuando las hacía, era mucho después de la guerra, a fines de los años 50 o principios de los 60.
Monique escribió: "Recuerdo haber hecho las muñecas de más de 3cm porque en aquel momento, ya no era para hacer amuletos sino para hacer una muñeca y que quedáramos quietos. Las nuestras debían de medir entre 5 y 10cm.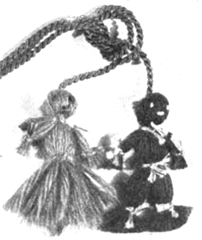 Es interesante saber que el nombre del perro de la antigua serie TV Rintintin proviene de estas muñecas. He aquí cómo pasó: un soldado estadounidense, Lee Duncan, encontró una perra con sus cinco cachorros en una perrada bombardeada en Lorena, un par de meses antes del fin de la guerra. Guardó dos de los cachorros y los llamó Nénette et Rintintin según los amuletos. Cuando regresó a casa en California, le enseñó trucos a Rintintin. El perro era capaz de brincar muy alto. Un amigo suyo grabó al perro saltando hasta 3,30m de altura y Duncan decidió de llevarlo a Hollywood. Lo que fue de Rintintin ya lo conocen todos.
Existe una cancioncita sobre Nénette et Rintintin que pueden aprender en la página Francia de Mamá Lisa's World en español.
P.S. Muy pronto colgaremos las instrucciones para fabricar muñecas de lana Nénette et Rintintin.
La foto del soldado más arriba proviene de "Popular Mechanics Magazine", Volumen 30 de 1918.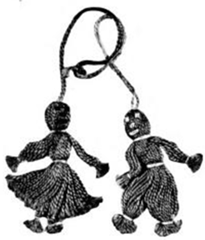 This article was posted on Saturday, June 16th, 2012 at 5:32 pm and is filed under . You can follow any responses to this entry through the RSS 2.0 feed. You can leave a response, or trackback from your own site.
Leave a Reply