Les porte-bonheur Nenette et Rintintin
June 16th, 2012

Nénette et Rintintin étaient à l'origine des poupées à l'usage des enfants conçues par Francisque Poulbot et fabriquées en France à partir de 1913. Le garçon, c'est Nénette, la fille, c'est Rintintin (malgré les apparences !). Dans la tradition sentimentale française, ils sont vus comme un couple.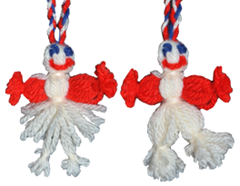 Pendant la guerre de 14-18, les gens ont commencé à fabriquer des petites poupées Nénette et Rintintin avec des bouts de laine. On les donnait aux soldats comme porte-bonheur. Les Parisiens les portaient aussi comme talismans pendant les bombardements.
Ces poupées étaient petites de façon à pouvoir être accrochées aux vêtements, portées sur des chapeaux, à la boutonnière ou autour du cou comme un collier. On pouvait les trouver en différentes couleurs, pourtant elles étaient souvent faites dans les couleurs bleu-blanc-rouge du drapeau. On pouvait aussi en trouver faites avec d'autres matériaux comme la paille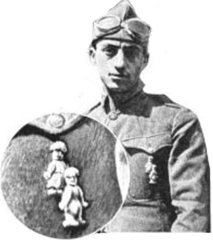 ou la soie.
Monique, de France, a écrit : "Je me souviens maintenant d'avoir fait de ces poupées. Je me revois en train de coudre des yeux et une bouche sur le visage, mais c'est si loin !" Quand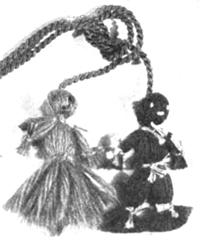 elle les faisait, c'était bien après la guerre, à la fin des années 50 ou début 60.
Monique a écrit : "Je me souviens d'avoir fait les poupées de plus de 3cm parce qu'au moment où je les faisais, ce n'était pas pour faire un porte-bonheur mais pour faire une poupée et qu'on se tienne tranquille ! Les nôtres devaient bien faire entre 5 et 10cm."
Il est intéressant de savoir que le nom du chien dans la vieille série télé Rintintin vient de ces poupées. Voilà comment c'est arrivé : un soldat américain, Lee Duncan, a trouvé une portée de cinq chiots dans un chenil bombardé en Lorraine une paire de mois avant la fin de la guerre. Il a gardé deux de ces chiots et les a appelés Nénette et Rintintin d'après les porte-bonheur. Quand il est rentré chez lui en Californie, il a enseigné des tours à Rintintin. Le chien était capable de bondir très haut. Un de ses amis a filmé le chien en train de sauter jusqu'à 3,30m de haut et Duncan a décidé de le faire jouer à Hollywood. Tout le monde connaît la suite de l'histoire de Rintintin !
Il existe une comptine sur Nénette et Rintintin que vous pouvez apprendre sur la page France de Mama Lisa's World en français.
P.S. Nous posterons bientôt des instructions pour fabriquer des poupées en laine Nénette et Rintintin.
La photo du soldat ci-dessus provient de "Popular Mechanics Magazine", Volume 30 de 1918.
This article was posted on Saturday, June 16th, 2012 at 2:20 pm and is filed under . You can follow any responses to this entry through the RSS 2.0 feed. You can leave a response, or trackback from your own site.
Leave a Reply