Is Susan B. Anthony the Lady with the Alligator Purse?
November 11th, 2011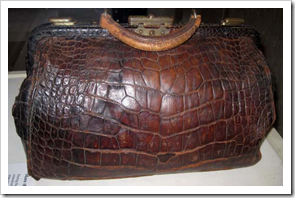 Nancy Silverrod, a Librarian, wrote to me about a variation of the rhyme Miss Lucy Had a Baby called Miss Lulu.  She was wondering if it has a connection to Susan B. Anthony and her alligator purse!  Susan B Anthony was a leader in the women's suffrage movement.
Here's what Nancy wrote:
There are numerous variations to this jump rope rhyme, this being one of the rarer ones [below]… It is reputed to refer to Susan B. Anthony and the 1896 California woman suffrage campaign. She supposedly carried her speeches in an alligator purse. I am trying to find an actual source linking her to this version other than the Susan B. Anthony House in Rochester, NY.

Miss Lulu had a baby, she called him tiny Tim.
She put him in the bathtub, to see if he could swim.
He drank up all the water! He ate up all the soap!
He tried to swallow the bathtub, but it wouldn't go down his throat!!
Call for the doctor!
Call for the nurse!
Call for the lady with the alligator purse!
"Mumps!" said the doctor. "Measles!" said the nurse.
"Vote!" said the lady with the alligator purse!

If anyone has the following pamphlet, it may be included there: Johnson, Margaret.  "Singing and Song Making Among Children."  Los Angeles:  International Children's Center, 16 pages.

Any help would be appreciated.

Nancy Silverrod, Librarian
This is an intriguing question, can anyone help answer it?
Thanks in advance!
Mama Lisa
This article was posted on Friday, November 11th, 2011 at 11:02 pm and is filed under Countries & Cultures, English, Games Around the World, Hand Clapping Rhymes, Jump Rope, Jump Rope Rhymes, Jump Rope Songs, Languages, Miss Lucy, Nursery Rhymes, Songs by Theme, Susan B. Anthony, USA. You can follow any responses to this entry through the RSS 2.0 feed. You can skip to the end and leave a response. Pinging is currently not allowed.
One Response to "Is Susan B. Anthony the Lady with the Alligator Purse?"
John Buck Says:
April 15th, 2019 at 5:25 pm

I always figured it was a wealthy personal injury lawyer following the doctor and nurse to the hospital.
Leave a Reply