Our Singing Artist Friend
November 12th, 2011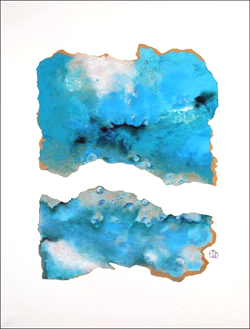 Edit' Dupont is a talented artist as well as a lovely singer!  She has sung over 100 French songs for us.  You can hear them on our French Song Pages.
When Edit' is creating art she likes to work with paint on paper.  She wrote:
"Paper expresses strength, fragility, softness, transparency…  It readily transforms itself, welcomes color and easily changes shape.
It translates my emotions most accurately,
thus, it is on paper that I have chosen to paint."
Edit's art is highly influenced by her travels to Japan and her frequent sojourns in Hawaii. The first painting here makes me think of the clear blue waters surrounding the Hawaiian Islands.
Here's a piece with bold vibrant colors.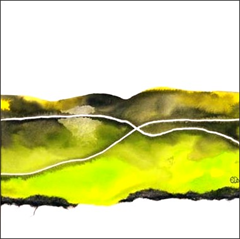 This next piece is a clear reference to Japanese art and culture with it's fan shape and floral patterns.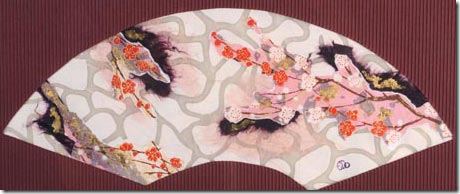 We would like to take the time here to thank Edit' for singing so many wonderful songs for us and for sharing images of some of her art.  Check out more of Edit' Dupont's paintings on her site.
-Mama Lisa and Tatie Monique
This article was posted on Saturday, November 12th, 2011 at 6:58 pm and is filed under Arts and Crafts, Children's Songs, Countries & Cultures, French, French Kids Songs, Hawaii, Japan, Painting, Recommendations, Recordings, Recordings of Songs. You can follow any responses to this entry through the RSS 2.0 feed. You can skip to the end and leave a response. Pinging is currently not allowed.
Leave a Reply