This is a game to play with a child. You recite the rhyme while gently sliding your hand down the kid's face. When you get to the last line, you hold the child's nose between your thumb and finger, with your other hand you pretend to "chop off" the nose!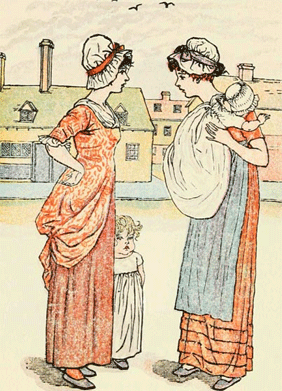 My Mother and Your Mother
My mother, and your mother,
Went over the way;
Said my mother, to your mother,
"It's chop-a-nose day."
Comments
Halliwell wrote before the rhyme, "The following lines are repeated by the nurse when sliding her hand down the child's face".
Thanks and Acknowledgements
The illustration comes from Kate Greenaway's Mother Goose or the Old Nursery Rhymes (1881). This rhyme can by found in The Nursery Rhymes of England (1849), by James Orchard Halliwell.