"Romance del Conde Olinos" is one of the most widespread ballads in the oral tradition of the Spanish speaking world. It's an anonymous ballad that's thought to be from the 15th century.

There are many versions of this song, you'll find 432 versions of them in Hispanic and Portuguese languages on this University of Washington Pan-Hispanic Ballad Project page.
Romance del Conde Olinos
Ballad of Count Olinos
1. Madrugaba el Conde Olinos mañanita de San Juan
a dar agua a su caballo, a las orillas del mar.

2. Mientras el caballo bebe, canta un hermoso cantar,
las aves que iban volando, se paraban a escuchar.

3. - Bebe, mi caballo, bebe. Dios te me libre de mal,
de los vientos de la tierra y de las furias del mar.

4. La reina lo estaba oyendo desde su palacio real.
- Mira, hija, como canta la sirena de la mar.

5. - No es la sirenita, madre, que esa tiene otro cantar,
es la voz del Conde Olinos, que me canta a mí un cantar.

6. - Si es la voz del Conde Olinos, yo lo mandaré matar,
que para casar contigo, le falta la sangre real.

7. - No le mande matar, madre, no le mande usted matar,
que si mata al Conde Olinos, a mí la muerte me da.

8. Guardias mandaba la reina al Conde Olinos buscar,
que le maten a lanzadas y echen su cuerpo a la mar.

9. La infantina con gran pena, no dejaba de llorar;
él murió a la medianoche, y ella a los gallos cantar.

10. A ella como hija de reyes la entierran en el altar,
y a él como hijo de condes cuatro pasos más atrás.

11. De ella nació un rosal blanco, de él nació un espino albar;
crece el uno, crece el otro, los dos se van a juntar.

12. La reina llena de envidia, ambos los mandó cortar,
el galán que los cortaba, no dejaba de llorar.

13. De ella naciera una garza, de él un fuerte gavilán,
juntos vuelan por el cielo, juntos se van a posar.
1. Count Olinos rose early on Saint John's Day* morning
To water his horse by the sea side.

2. While the horse drank, he sang a beautiful song,
The birds that were flying by stopped to listen.

3. "Drink, my horse, drink, may God spare you from evil,
From the winds of the earth and the furies of the sea."

4. The queen was listening to it from her royal palace,
"Look, daughter, how the mermaid of the sea sings."

5. "It's not the little mermaid, mother, for she sings a different song,
It's the voice of Count Olinos, who sings a song for me."

6. "If it's the voice of Count Olinos, I'll have him killed,
Because he lacks the royal blood to marry you."

7. "Don't have him killed, mother; don't have him killed,
For if you kill Count Olinos, you assassinate me."

8. The queen sent guards to find Count Olinos,
To spear him dead and toss him into the sea.

9. The princess, with great sorrow, could not stop crying,
He died at midnight, and she, at the cock's first crow.

10. She, as the daughter of kings, was buried in the altar,
And he, as the son of counts, four steps behind.

11. From her was born a white rose bush, from him a white hawthorn,
One grows, and so does the other, they're going to intertwine.

12. The queen, full of envy, ordered to have them cut down,
The courtier who cut them, could not stop crying.

13. From her was born a heron, from him a strong hawk**,
Together they fly through the sky, they sit together.
Notes
*Saint John's Day is on June 24th.
**Note that in Spanish "garza" is feminine and "gavilán" masculine.
Comments
Monique Palomares wrote, "In several versions the two lovers become two bushes, but the queen has them cut down or unrooted, so they become birds, but the queen has them shot, then they become a fountain and a spring that cure many illnesses. The queen is losing sight in one eye and she goes to the fountain to be cured. She's denied a cure or she's told her eye will be cured but she'll lose sight in the other, or she's told she'll lose sight in both eyes instead of one.

Let's note also that sometimes the evil parent is not the queen but the king. In some versions the queen is Moorish and the count is Christian but in other versions it's the other way round, their difference in religion being the reason why their love is denied."


The children sing the first 9 verses.
Variations: verse 2 "Mientras su caballo bebe" (While his horse is drinking), verse 4 "Desde las torres más altas, la reina le oyó cantar" (From the highest towers, the queen heard him sing), verse 5 "…que por mí penando está." (Who's suffering because of me), verse 9 "… no cesaba de llorar" (same meaning)
Variations: verse 2 "… se oye un hermoso cantar, las aves que iban pasando…" (a nice song can be heard, the birds that were passing by… ), verse 4: "…la sirenita del mar" (the little mermaid from the sea), verse 10 "…unos pasos más atras" (some steps behind), verse 12 "… no cesaba de llorar" (same meaning), verse 13 "De ella nacería una garza" (From her a heron would be born…)
The children sing the first 9 verses.
Sheet Music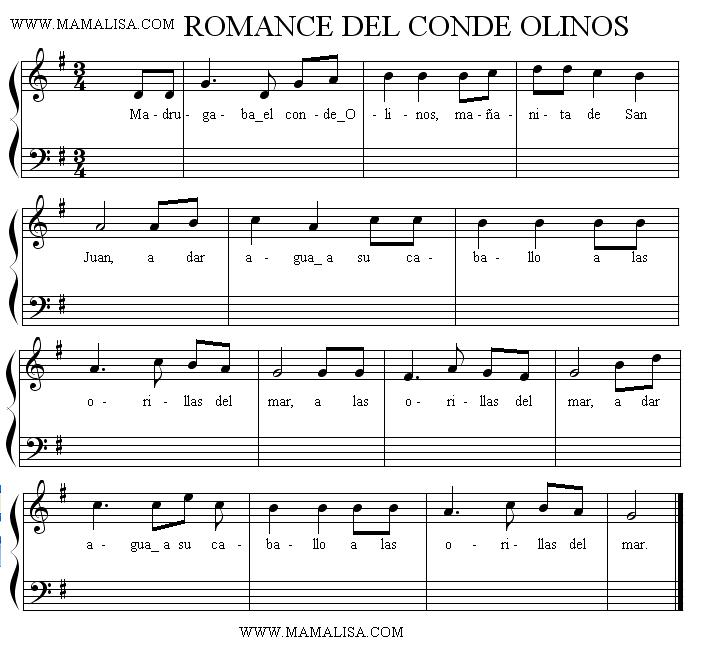 Thanks and Acknowledgements
Translated by Monique Palomares.