A Spanish Kids Song about the Vowels
August 15th, 2016
123 Andrés shared a fun, sweet Spanish vowel song with us called Dame una A (Give me an A). This song is inspired by the upbeat sounds and instruments of the Brazilian samba!
You can watch Andrés video of the song below, then read along with the Spanish lyrics, followed by an English translation…

Dame una A
Dame una A, dame una A
Vamos a viajar en avión
Dame una E, dame una E
La tierra quiero explorar
Dame una I, dame una I
Quiero visitar una isla
Dame una O, dame una O
Volemos sobre el océano
Dame una U, dame una U
Quiero descubrir el universo
A E I O U
English Translation:
Give Me an A
Give me an A, give me an A
Let's fly away in an airplane
Give me an E, give an E
Let's explore the earth
Give me an I, give me an I
Let's find an island
Give me an O, give me an O
Let's cross over the ocean
Give me a U, give me a U
Let's discover the universe
A E I O U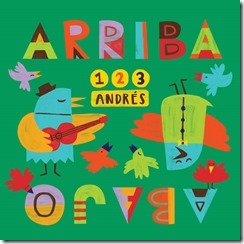 "Dame una A" is the first single from 123 Andrés' new album Arriba Abajo.
About Andrés:
123 Andrés, is one of the most exciting new voices on the family music scene in the US and Latin America, "A rockstar for little language learners" according to Billboard Magazine. A native of Bogotá, Colombia, Andrés brings to audiences joyful sounds, passion for bilingualism and a high-energy love of music that gets kids singing and dancing in Spanish and English.
Check out 123 Andrés' site.
Here's a link to where you can purchase the music of 123 Andrés.
Thanks to Andrés for sharing!
Enjoy!
Mama Lisa
This article was posted on Monday, August 15th, 2016 at 8:24 pm and is filed under CD's, Colombia, Countries & Cultures, Languages, Recommendations, Spain, Spanish, USA, YouTube. You can follow any responses to this entry through the RSS 2.0 feed. You can skip to the end and leave a response. Pinging is currently not allowed.
Leave a Reply