Recipe for Mazapán de Toledo – Christmas Cookies from Spain
December 19th, 2017
"…Here in Spain this dessert was created in the region of Toledo specially for Christmas and it's this region's most famous dessert." -MarieAlice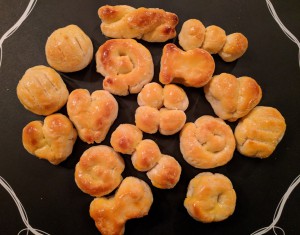 Mazapán de Toledo (Marzipan of Toledo)  is one of the most popular treats made in Spain for the Christmas holiday.  It's delicious with it's sweet almondy goodness! Here's the recipe…
Recipe for Mazapán de Toledo
(Makes 20 Cookies)
Ingredients
2 cups (200 g) Almond Flour
1 1/2 cup (200 g) Powdered Sugar
1 Egg White
1 Egg Yolk
1-2 Tablespoons Water
1. Sift together the almond flour and powdered sugar. Mix.
2. Add in the egg white and 1 tablespoon of water. Start by mixing with a hand blender. Eventually you can switch to kneading it with your hands. If it's too dry you can slowly add more water. The dough is ready when it's uniform and soft.
3. To make your first shape take a ball of the dough that's a about 1 1/4″ round (about 3 cm). Then you can make it into different shapes. Here are some examples of the shapes normally made…
4. Place the shapes on a cookie sheet lined with parchment paper.
5. Turn your broiler on low.
6. Beat the egg yolk. Brush the shapes with it.
7. Place the cookie sheet under the broiler.  Be careful! They cook very quickly. Check them every minute or two. Keep watching until they're golden brown. (Be careful not to burn them!)
8. When done, place cookies on a baking rack until cool.
9. Place cookies in a tin to keep them fresh.
Enjoy!
Mama Lisa
This article was posted on Tuesday, December 19th, 2017 at 11:16 pm and is filed under Christmas, Christmas Cookies, Christmas Recipes, Cookies, Countries & Cultures, Desserts, Holiday Recipes, Holidays Around the World, Mama Lisa, Mazapan de Toledo, Recipes of the World, Spain. You can follow any responses to this entry through the RSS 2.0 feed. You can skip to the end and leave a response. Pinging is currently not allowed.
3 Responses to "Recipe for Mazapán de Toledo – Christmas Cookies from Spain"
Jill Swartz Says:
December 27th, 2020 at 5:40 pm

I made these for my grandson whose father was born in Spain. He has been to Toledo and had these cookies. Mine look like the picture. But I'm wonder how the bottom is suppose to look. I assume not browned because the heat comes from the top (where my broiler is). Thanks for sharing the recipe. (Marzipan Toledo)

Lisa Yannucci Says:
December 28th, 2020 at 3:21 pm

Hi Jill,

Mine were cooked on the bottom. If you're worried that yours didn't cook enough, you can flip them over and cook them for a minute at a time (being careful not to burn them).

All the best,

Mama Lisa

Brittany Harrington Says:
January 30th, 2023 at 6:07 am

Hello,
I am a first generation spaniard living in the USA.
I make these with marcona almonds that I grind myself. I find they taste better than the almond flour made from the more bitter California almonds that I have access to.
I also have used bakers super fine sugar and like the taste better. I am told that in the United States we add corn starch to the powdered sugar to keep it from clumping and that can affect the taste.
Leave a Reply