A Ladino's Children's Song with a Recording
August 30th, 2016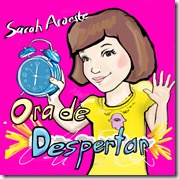 Singer and Songwriter Sarah Aroeste has shared with us one of her lively Ladino children's songs.
Ladino is a Judeo-Spanish dialect that was originated by Spanish Jews after their expulsion from Spain in 1492.  Those who left Spain, including Aroeste's family, carried the medieval language with them to the various points where they later settled, primarily along the Mediterranean coast and North Africa. In time, Ladino came to absorb bits and pieces of languages all along the Mediterranean coast, including some Greek, Turkish, Portuguese, French, Italian, Hebrew, and more. Nowadays the largest population of Ladino speakers live in Israel. It's a minority language there, as well as in Turkey, France and Bosnia and Herzegovina.
Aroeste has worked tirelessly to keep Ladino music alive for a new generation. She recently released Ora de Despertar (2016), the first all-original Ladino children's album.
Here's a short version of one of Sarah's Ladino kids songs that can be found on her album. It's called "Ora de Despertar" (Time to Wake Up).  It's a very easy song for adults and kids all about waking up in the morning.  Below are both the Ladino and English lyrics with a lovely a cappella recording by Sarah…
Ora de Despertar
El sol briya en mi ventana
Las solombras baylan
Los pasharos djugan afuera
I sus kantes kantan
Ora de despertar, ora de despertar
Ora de aferrar el dia!
Ora de despertar, ora de despertar
Es un muevo dia!
Time to Wake Up
(English Translation)
The sun shines through my window
The shadows dance along
The birds all play outside
As they sing their song.
Time to wake up, time to wake up
Time to catch the day!
Time to wake up, time to wake up
It's a brand new day!
Check out Sarah Aroeste's site to hear a longer version of this song and to discover more of her Ladino music.
Many thanks to Sarah for sharing her song with us! You can also learn a traditional Ladino song here that Sarah shared with us.
Enjoy!
Mama Lisa
Leave a Reply