Gee, geffyl bach
Gee Up Little Horse
Gee, geffyl bach, yn cario ni'n dau
Dros y mynydd i hela cnau;
Dŵr yn yr afon a'r cerrig yn slic,
Cwympo ni'n dau. Wel dyna i chi dric!

Cwyd Robin bach a saf ar dy draed,
Sych dy lygad, anghofio'r gwaed;
Neidiwn ein dau ar ein ceffyl bach gwyn,
Dros y mynydd, ac i lawr y glyn.

Gee, geffyl bach dros frigau y coed,
Fel y Tylwyth Teg mor ysgafn dy droed,
Carlam ar garlam ar y cwmwl gwyn;
Naid dros y lleuad, ac i lawr at y llyn.
Gee up little horse, carrying us two
Over the mountain to gather nuts,
Water in the river, the stones are slippery,
We both fall down, well what a trick!

Get up little Robin and stand on your feet,
Dry your tears, forget the blood,
We'll both jump on the big white horse,
Up the mountain and down the valley.

Gee up little horse over the branches of the
tree
Like the fairies so light footed,
Galloping away over the big white cloud,
Jump over the moon and down to the lake.
Notes
Anthony wrote, "This is usually sung to the child balanced on your legs, and as the words 'fall down' are arrived at, the singer drops the child through them."

Sheet Music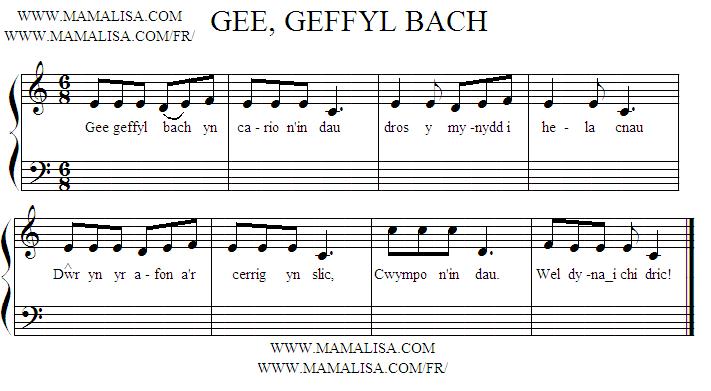 Thanks and Acknowledgements
Many thanks to Rosemary Hughes for contributing this song. Thanks also to Monique Palomares for the English translation and for creating the midi music and to Anthony for letting us know how to play this game and for help with the language!
Diolch ÿn fawr!