Deck the Halls – Originally Contained a Warning about Spending too Much Money for the Holidays
December 12th, 2015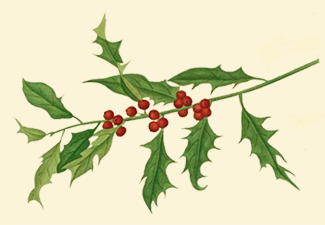 The Christmas carol "Deck the Hall" originally comes from the Welsh New Year's Carol called Nos Galan ("New Year's Eve").  Nos Galan is about spending New Year's Eve with friends. It's also about not spending more than you can afford for the holidays!  It was first published in 1794, though it's much older than that, possibly dating back to the 1500's.

The English carol "Deck the Halls" was published in 1862 and was written by Scottish musician, Thomas Oliphant. He put new words to the Welsh carol. His song is about both Christmas and the New Year.
You can listen to 2 versions of Deck the Halls here.
Learn the Welsh Nos Galan here (with an English translation).
Happy Holidays!
Mama Lisa
This article was posted on Saturday, December 12th, 2015 at 4:06 pm and is filed under Australia, Christmas, Christmas Carols around the World, Christmas MP3's, Christmas Songs, Countries & Cultures, England, English, Holiday Songs, Holidays Around the World, Languages, MP3's, New Year's Eve, New Years, New Years Songs, Recordings, Scotland, USA, Wales, Welsh. You can follow any responses to this entry through the RSS 2.0 feed. You can skip to the end and leave a response. Pinging is currently not allowed.
Leave a Reply