A Recipe for Gingerbread Man Cookies that Kids Love!
December 13th, 2015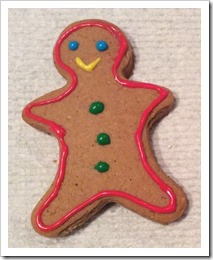 Gingerbread Cookies are part of the December Holiday tradition. They're made in Germany, England, the Netherlands, Australia, the U.S.A., and many other countries around the world. 
This delicious gingerbread cookie recipe replaces the molasses with honey, making it less intense and more pleasing for kids and adults alike. This also creates a soft gingerbread cookie.
Feel free to adjust the spices if desired. If you love cinnamon, add a little more.  If you like spicy cookies, you can add a dash or two more of cloves or allspice. Just try to keep in the ginger, since that's the most important part of a gingerbread cookie! You can also use all All-Purpose Flour (i.e. 3 cups) if you don't have oat flour on hand. 
Note: I make oat flour at home by grinding up oats in my food processor. It makes the recipe healthier.
My gingerbread man cookie cutter is 3 1/2" long – which yielded 21 cookies from this recipe.
Recipe for Gingerbread Men Cookies
Ingredients
11 T. Butter
1/2 c. Packed Brown Sugar
1/2 c. (or a little less) Honey
1 t. Baking Soda
1 egg, beaten
1T. plus a pinch or two of Ground Ginger
1/2 t. Cinnamon
1/8 t. Coriander
1/8 t. Nutmeg
Pinch or two of Cloves
Pinch of Allspice
1/2 t. Baking Powder
3/4 c. Oat Flour
2 1/4 c. All-Purpose Flour
To Decorate:
Writing Icing
Candy if desired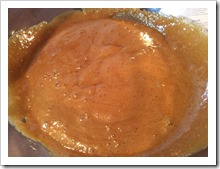 1. Cut the butter into small pieces and put in a small saucepan on medium heat. Add the brown sugar and honey. Stir until melted.
2. Then bring the mixture to a boil and pour into a large heatproof bowl.  Add the Baking Soda and stir. Let cool.
3. Add the egg and stir.
4. Add all the spices and the Baking Powder and stir well.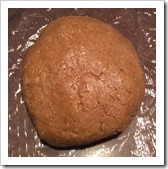 5. Sift the oat flour and the all-purpose flour and add to the bowl. Mix well.
6. Make the mixture into two flattened balls, wrap each one in plastic wrap and refrigerate for an hour.
7. After the hour is up, preheat the oven to 350F.
8. Place one flattened ball of dough between two sheets of wax or parchment paper.  Roll it out flat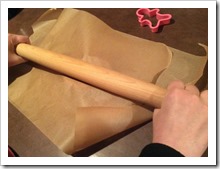 until it's about 1/4" thick.
8. Use a gingerbread man cookie cutter to make shapes from the dough and place on a parchment covered cookie sheet. (Keep dough scraps to roll out again later.)
9. Cook for 7 1/2 to 8 1/2 minutes until the cookies are just starting to brown.
10. Place on wire rack until cool.
11. Repeat with the rest of the dough.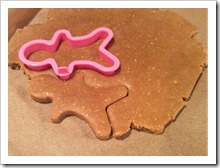 To decorate:
The easiest way to decorate gingerbread cookies is to buy writing icing.  It comes in little tubes so it's really easy to pipe details on the cookies. You can use little chocolate chips or small candy for details like buttons. You can also use sprinkles if desired.
This recipe was adapted from a recipe on Taste.com.au.
Have fun and enjoy!
Mama Lisa 


This article was posted on Sunday, December 13th, 2015 at 7:23 pm and is filed under Christmas, Christmas Cookies, Christmas Recipes, Cookies, Countries & Cultures, Desserts, England, Germany, Gingerbread Men Cookies, Holiday Recipes, Holidays Around the World, Recipes of the World, USA. You can follow any responses to this entry through the RSS 2.0 feed. You can skip to the end and leave a response. Pinging is currently not allowed.
One Response to "A Recipe for Gingerbread Man Cookies that Kids Love!"
A Gingerbread Man Poem in German with an English Translation and a Recording Says:
December 14th, 2015 at 5:01 pm

[…] Here's a Gingerbread Man Recipe […]
Leave a Reply