A Gingerbread Man Poem in German with an English Translation and a Recording
December 14th, 2015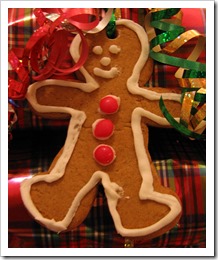 Gingerbread Cookies are an important part of the holiday season in Germany. They're sold in Christmas Markets that are found all over Germany at this time of year.
The creation of the Gingerbread Man is credited to the court of Queen Elizabeth I. The story is that she had gingerbread man cookies made to resemble people in her court.
Whatever their origin, gingerbread men are now made all over the western world.
We were lucky to find a German poem about these cookies called "Vom Honigkuchenmann" (The Gingerbread Man) by August Heinrich Hoffmann von Fallersleben. The fact that the poet lived from (1798 – 1874) tells us that Gingerbread Man cookies have been made in Germany for a long time.
You'll find the original text to the poem below, along with a recording and an English translation…
MP3 Recording of Vom Honigkuchenmann

Vom Honigkuchenmann

(German Text)

Keine Puppe will ich haben –

Puppen gehn mich gar nichts an.

Was erfreu'n mich kann und laben

Ist ein Honigkuchenmann.

So ein Mann mit Leib und Kleid

durch und durch an Süßigkeit.

 

Stattlicher als eine Puppe

Sieht ein Honigkerl sich an,

Eine ganze Puppengruppe

Mich nicht so erfreuen kann.

Aber seh ich recht dich an,

Dauerst du mich, lieber Mann.

 

Denn du bist zum Tod erkoren –

Bin ich dir auch noch so gut,

Ob du hast ein Bein verloren.

Ob das andre weh dir tut:

Armer Honigkuchenmann,

Hilft dir nicht, du mußt doch ran.

 

The Gingerbread Man

(English Translation)

 

I don't want any doll,

Dolls do nothing for me.

What can make me happy and delighted

is a gingerbread man.

Just a man with a body and clothes

completely made of candy.

 

More stately than a doll

is this honey guy.

A whole bunch of dolls

Cannot please me so.

But I look right at you,

And I pity you, dear man.

 

Because you are doomed to die –

I'm still so good to you,

Whether you've lost a leg.

Or if the other one hurts you,

Poor gingerbread man,

It doesn't help you, you cannot escape!

 

Recording by Julia Niedermaier.

Translation by Lisa Yannucci, Monique Palomares and Christina Weising.
Here's a Gingerbread Man Recipe
Enjoy!
Mama Lisa
Monique Palomares works with me on the French and Spanish versions of Mama Lisa's World.
This article was posted on Monday, December 14th, 2015 at 5:01 pm and is filed under Christmas, Christmas Poems, Countries & Cultures, German, German Poems, Germany, Holidays Around the World, Languages, MP3's, Poems, Poetry, Recordings, Recordings of Poems, The Gingerbread Man. You can follow any responses to this entry through the RSS 2.0 feed. You can skip to the end and leave a response. Pinging is currently not allowed.
Leave a Reply