Abracadabra
January 18th, 2017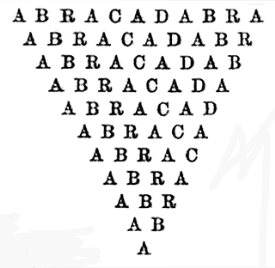 Abracadabra hasn't always been a fun word modern day magicians and others use to unlock something or create a quick magical fix to some problem.
The word itself is very old. According to wikipedia, its earliest reference is in a book from the 3rd century a.d. called "Liber Medicinalis" by the Roman doctor Quintus Serenus Sammonicus. He recommended its use against malaria.
Some people believe its either an Aramaic or Hebrew phrase.  But no one really knows for certain.
People used to use the word ABRACADRABRA as a talisman. It was inscribed several times on parchment in the shape of an inverted triangle (see image). The upside-down triangle would start at the top with the word "Abracadabra". Then it would be repeated on the next line without the last letter of the word. Each following line would lose a letter until the final line would just be the letter "A".
This was hung with linen thread on the necks of malaria patients. It was believed to cure them.
Over the centuries it was thought to prevent or cure other diseases as well. Daniel Defoe, in his book, "Robinson Crusoe" said the talisman was used to protect against the Great Plague of London in 1665. To no avail.
I found mention of Abracadabra's use as a talisman as recently as 1911, in the book, "Folk-Lore of West and Mid-Wales" by Jonathan Ceredig Davies. Davies wrote:
"One of the most famous and popular charms in the central parts of Wales—especially Cardigan and Carmarthenshire—was the magic and mysterious word Abracadabra, which was obtained from wizards by paying a certain sum of money for it… There are many people even at the present day in West and Mid-Wales who keep this mystic cabala in their houses as a most valuable treasure. It is called 'papur y Dewin' (the wizard's paper). It was considered a protection against witches and the 'evil eye,' as well as all other evil influences; and an antidote against fevers."
The next time you say "abracadabra" you'll know that this word has a very old history indeed.
I'm curious about what other languages have the phrase "Abracadabra". Please let us know if you say it in your language in the comments below, being sure to mention the language. We'd also love to hear under what circumstances you say it.
Thanks!
Mama Lisa
For fun, here's a song from 1982 called, "Abracadrabra" by Steve Miller…
This article was posted on Wednesday, January 18th, 2017 at 8:29 pm and is filed under Abracadabra, Aramaic, Charms, Countries & Cultures, England, English, Folk Lore, Good Luck, Hebrew, Israel, Languages, Superstitions, Talismans, USA, Wales, Words & Phrases. You can follow any responses to this entry through the RSS 2.0 feed. You can skip to the end and leave a response. Pinging is currently not allowed.
10 Responses to "Abracadabra"
Leave a Reply