Up-Hill – A Poem by Christina Rossetti
January 30th, 2017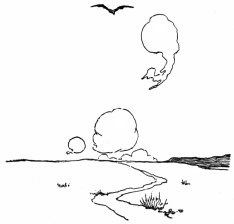 Up-Hill is a poem about a weary traveller. It can also be a metaphor for life.
You can listen to 2 recordings of "Up-Hill below. One is recited, the other sung. You can also read along with the text.
Enjoy! Mama Lisa
MP3 Recording of the Poem Up-Hill
MP3 Recording of the Poem Up-Hill – Sung
Up-Hill
By Christina Rossetti
Does the road wind up-hill all the way?
   Yes, to the very end.
Will the day's journey take the whole long day?
   From morn to night, my friend.
But is there for the night a resting-place?
   A roof for when the slow dark hours begin.
May not the darkness hide it from my face?
   You cannot miss that inn.
Shall I meet other wayfarers at night?
   Those who have gone before.
Then must I knock, or call when just in sight?
   They will not keep you standing at that door.
Shall I find comfort, travel-sore and weak?
   Of labour you shall find the sum.
Will there be beds for me and all who seek?
   Yea, beds for all who come.
Read by J.A. Carter
Sung by Ezwa
This article was posted on Monday, January 30th, 2017 at 5:39 pm and is filed under Mama Lisa. You can follow any responses to this entry through the RSS 2.0 feed. You can skip to the end and leave a response. Pinging is currently not allowed.
4 Responses to "Up-Hill – A Poem by Christina Rossetti"
Leave a Reply