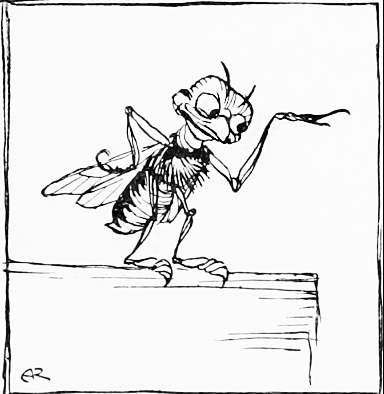 What a sharp little fellow is Mister Fly,
He goes where he pleases, low or high,
And can walk just as well with his feet to the sky
As I can on the floor.
At the window he comes,
With a buzz and a roar,
And o'er the smooth glass,
Can easily pass,
Or through the key-hole of the door.

He eats the sugar, and goes away,
Nor ever once asks what there is to pay;
And sometimes he crosses the teapot's steam,
And comes and plunges his head in the cream;
Then on the edge of the jug he stands,
And cleans his wings with his feet and hands.
This done, through the window he hurries away,
And gives a buzz as if to say,
"At present I haven't a minute to stay,
But I'll peep in again in the course of the day."

Then again he'll fly
Where the sunbeams lie,
And neither stop to shake hands,
Nor bid one good-bye:
Such a strange little fellow is Mister Fly,
Who goes where he pleases, low or high,
And can walk on the ceiling
Without ever feeling
A fear of tumbling down "sky-high."
Notes
Written by Thomas Miller

Thanks and Acknowledgements
This poem can be found in "Robert Merry's Museum," Volumes 15-24 (1848), edited by Samuel Griswold Goodrich & Stephen T. Allen.