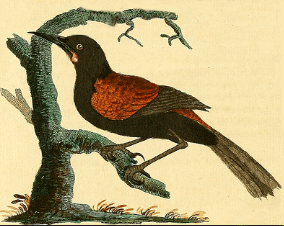 Black beneath as the night,
With wings of a morning glow,
From his sooty throat three syllables float,
Ravishing, liquid, low;
And 'tis oh, for the joy of June,
And the bliss that ne'er can flee
From that exquisite call, with its sweet, sweet fall-
O-ke-lee, o-ke-lee, o-ke-lee!

Long ago as a child,
From the bough of a blossoming quince,
That melody came to thrill my frame,
And whenever I've caught it since,
The spring-soft blue of the sky
And the spring-bright bloom of the tree
Are a part of the strain - ah, hear it again!-
O-ke-lee, o-ke-lee, o-ke-lee!

And the night is tenderly black,
The morning eagerly bright,
For that old, old spring is blossoming
In the soul and in the sight.
The red-winged blackbird brings
My lost youth back to me,
When I hear in the swale, from a gray fence rail,
O-ke-lee, o-ke-lee, o-ke-lee!
Notes
Written by Ethelwyn Wetherald.