Recipe for Omelette Pascale – A Traditional French Easter Omelet
March 30th, 2020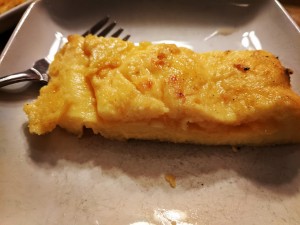 French people normally have a picnic on Easter Monday. One dish they serve is called Omelette Pascale (Easter Omelet). Originally during Lent people weren't allowed to eat eggs for 40 days. So having an omelet is also a celebration of the fact that you can now eat eggs!
There is a sweet and a savory version of the Omelette Pascale. The sweet omelet is served for dessert. It's made with sugar and is normally flambéed with rum! Here's a recipe for the sweet version…
Recipe for a Sweet Omelet Pascale
Ingredients
6 Eggs
3 T. Sugar
2 T. Flour
1/2 cup Milk
Pinch of Salt
1 T. Butter for frying
1 – 2 T. Rum
Directions
1. Break the eggs into a bowl and add the 3 tablespoons of sugar, the flour, milk and a pinch of salt. Beat with a spatula until well blended. It should be a little thicker than crepe batter.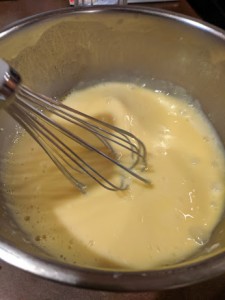 2. Melt butter in a frying pan on medium heat. Cook until the edges start coming away from the pan. Then fold over the omelet.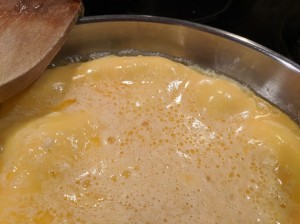 3. Cook until it's starting to look firm, about 3 – 5 minutes. Then flip it over. Once it's firm, place it on a platter.
4. Meanwhile, heat up the rum in a little pot. Then pour it evenly over the omelet and light it to flambé it. The flame usually goes out within a minute. Then serve and enjoy!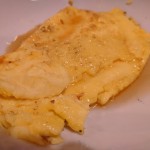 Bon appetit!
Mama Lisa
Interesting Notes:
According the Qualité Sud de France Facebook Page: "A few years ago, the children went around the houses of the village in search of eggs to make the omelet which was made over a wood fire and often in the wilderness when the weather allowed."
Also, some towns will make a giant omelet, and when I say giant I mean about 12 feet in diameter! Then they serve it to all the people who came to see it!
This article was posted on Monday, March 30th, 2020 at 7:45 pm and is filed under Canada, Countries & Cultures, Easter, Easter Monday, Easter Recipes, France, France, Holidays Around the World, Mama Lisa, Omelette Pascale - French Easter Omelet. You can follow any responses to this entry through the RSS 2.0 feed. You can skip to the end and leave a response. Pinging is currently not allowed.
Leave a Reply