Dyeing Eggs with Natural Ingredients
March 28th, 2020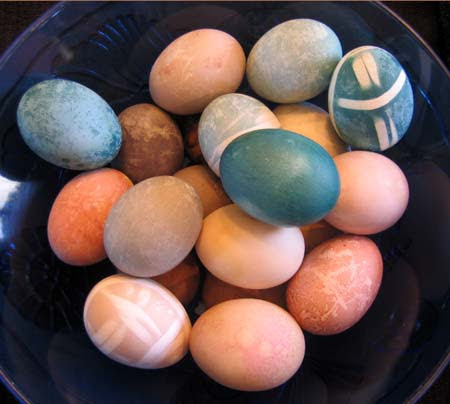 This Easter will be a challenging one for many of us. Dyeing eggs is a great way for kids and parents to spend time together indoors. And it's even more fun to make the dyes yourselves from natural ingredients.
One of our most popular articles every Easter is this one from, wow, twelve years ago, How to Dye Eggs with Natural Ingredients.
Make sure you read through the comment section for more ideas from our readers. If you have any of you own, please join the discussion!
It's also available in an Easy Print format, so you can use it at the table while making the dyes.
This article was posted on Saturday, March 28th, 2020 at 9:19 pm and is filed under Countries & Cultures, Crafts, Dyeing Easter Eggs, Dyeing Eggs Naturally, Easter, Easter Eggs, England, Holidays Around the World, Mama Lisa, Parenting, USA. You can follow any responses to this entry through the RSS 2.0 feed. You can skip to the end and leave a response. Pinging is currently not allowed.
Leave a Reply