French Canadian Tradition: La fête des rois
January 5th, 2021
Therese Siemers wrote from Alberta, Canada about how La fête des rois and Christmas has been celebrated there…
"French Canadian tradition: La fête des rois -The feast of the kings in celebrated on January 6th.  Ukrainian Christmas is also celebrated here in this area of Alberta, Canada.
As children, we always celebrated Christmas Eve with "le réveillon". After midnight mass, people would have a family celebration with meat pie "tourtière" & potato pie, and other treats. Children might even be allowed a small sip of homemade wine. You might be up until 2 or 3 a.m.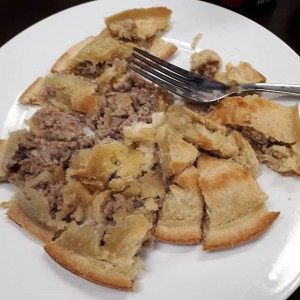 Presents were opened January 1st, New Years Day.
On January 6, we celebrated "la fête des rois". It was very exciting. A plain white cake – un gâteau blanc – a flat white cake was baked. (See Recipe for gâteau blanc.) We wrapped in wax paper a dime & a nickel and sometimes a penny. These were baked in the cake. Whoever got the dime was king, the nickel was queen, and if there was a penny, it was no big deal. Whoever was king could tell others what to do for the day. You had to do what you were asked to do. It was all in fun, but it was very exciting for children. You picked fun things to do. Some people would put a bean and a pea instead.
That was in the 1950's and into the 1960's."
I asked Therese if they still celebrate La fete des rois. She wrote…
"Possibly in areas where there are more francophones. My husband is not French, so we don't celebrate the old traditions. The custom of opening Christmas gifts on New Year's Day is no longer observed.
I called l'ACFA – the Alberta organization of Francophones. The gentleman I spoke to – he has a real Quebec accent – advises that the local Council has in the past few years, even as recently as 2014 or 2015 had activities between family groups celebrating "La fête des rois." Although with Covid this year, no activities are happening. So individual families may possibly have their own celebrations in their homes if there are children. That's the local ACFA office. It is throughout Alberta.
Here, in Alberta, there is a very substantial Ukrainian population, and for sure they celebrate January 6, Ukrainian Christmas. They have at least 6 dishes that must be served and of course, you can buy Ukrainian cabbage rolls, perogies, and sauerkraut in grocery stores. Besides those staples, Ukrainians have a wheat dish, the cornmeal dish, and those little round dough balls baked and served warm with cream called pereske, and the fruit filled deep fried buns Pampushky, and the little Nalysnyky – little crepes filled with cottage cheese. And then they also have a special Christmas bread. Ladies make most of those delicacies and you can buy them at Farmers' Markets all over Alberta.
I leave my Christmas tree up every year until January 7 – after the feast of the Kings. And probably most Ukrainian families would also do so."
Many thanks to Therese for sharing these traditions with us! If anyone from Canada would like to share how they celebrate La fete des rois, please comment below.
-Mama Lisa
Image:  Traditional French Canadian pork meat pie, by Oaktree B, CC BY-SA 4.0
One Response to "French Canadian Tradition: La fête des rois"
Jeffrey Robert Bailey III Says:
December 26th, 2021 at 9:16 am

This is my B-day if you can remember it!

Thank You,

Jeffrey Robert Bailey III
Leave a Reply