Handwashing Song with Recording
March 18th, 2020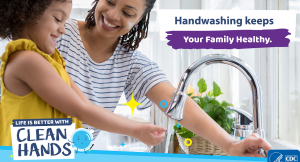 Lowell Herbert sent us this wonderful handwashing song from London! Here are the lyrics and recording followed by his letter…
Handwashing Song Lyrics
Germs are small yes they're very, very small
And in fact they can't be seen at all.
But beware! They are there!
So wash your hands, scrub-a-dub,
Scrub-a-dub, scrub-a-dub.
And if you want to cough or sneeze,
Try to do it in your sleeve
Or a tissue…………then the bin……….
Find a bin and put it in!
Here's Lowell's letter:
I am sending this song from our Montessori nursery in London, England and we hope you will enjoy it.
Obviously I wrote it because of the Coronavirus and the children love singing it. There are 46 children and they range in age from 2 to 4 and-a-half.
Have fun and stay safe,
Lowell Herbert
Thanks so much for sharing Lowell! I love it! Stay well! -Mama Lisa
This article was posted on Wednesday, March 18th, 2020 at 11:46 pm and is filed under Australia, Canada, Countries & Cultures, England, English, English Children's Songs, Handwashing Songs, Ireland, Languages, Mama Lisa, New Zealand, Northern Ireland, Scotland, Songs by Theme, USA. You can follow any responses to this entry through the RSS 2.0 feed. You can skip to the end and leave a response. Pinging is currently not allowed.
8 Responses to "Handwashing Song with Recording"
Leave a Reply