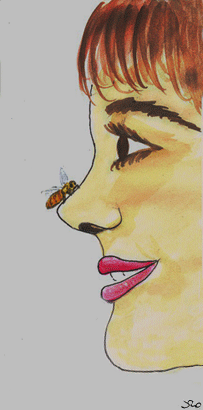 1. What do you suppose?
2. A bee sat on my nose.
3. Then what do you think?
4. He gave me a wink
5. And said, "I beg your pardon
6. I thought you were the garden."

Game Instructions
1. Tilt your head to the side like you're asking a question.
2. Put your finger on your nose.
3. Repeat action #1
4. Wink.
5. Put your hands on your cheeks.
6. Point to "you" and then move your finger around like it's a bee and say "buzzzzz".


Recited by Jason Pomerantz.

Thanks and Acknowledgements
Thanks to Monique Palomares for the illustration!