This lullaby was published in 1630 in "Informatorium maternum" by Iohannes Amos Comenius. The language is archaic.
Spi mé malé poupě
Sleep, My Little Rosebud
Spi mé malé poupě,
spi malé holoubě,
spi mi dobrou chvíli,
hodinu, tři, čtyři,
děťátko.

Anděl boží z nebe,
opatrujž mi tebe,
aby tiše spalo,
ve zdraví zas vstalo,
děťátko.

Sleep, my little rosebud*,
Sleep little pigeon,
Sleep for a good while,
An hour, three, four,
Baby.

May God's angel in heaven,
Watch over him for me,
So that he sleeps quietly
And gets up again in good health
Baby.

Notes
*Poupě literally means "bud" (any flower bud).


In the video below the first verse is sung twice.
In the video below they start singing at 0:45...
The 1st song in the video below...
Sheet Music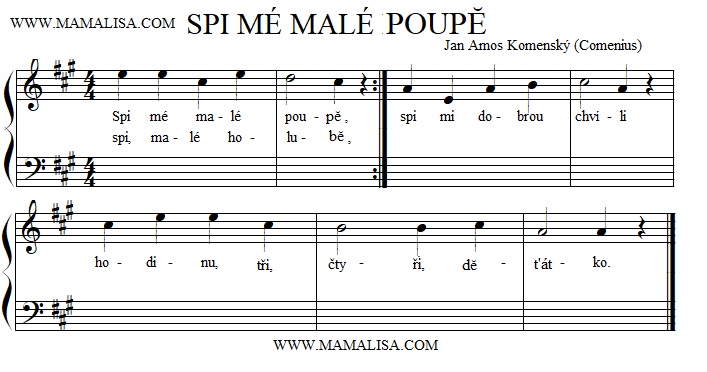 Thanks and Acknowledgements
Translated by Lisa.