Improve Your Language Learning with Real Video Games
June 4th, 2015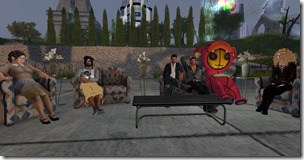 Playing real video games for fun is a great way to improve your foreign language skills. I'm talking about games you'd want to play in your own language, not specifically language learning games. There are many fun games that are available in many different languages.
I'm an early advanced French learner, so I understand enough to get by in a French game. I do have look up some words. So I jot them down while playing and look them up at a convenient time.  As long as you have some knowledge of a language, they're no reason you can't try a game in that language.  Just have a dictionary nearby!
My first attempt to play a video game in French was a failure. It seemed like a good idea to play a game online with real people who speak the language. So I tried the popular multiplayer online game called Second Life (the French version – other language versions exist).  You walk around the world and talk to actual people who are also walking around the same world talking to people. I didn't last long in that world.  I came across one guy who was looking practice his English.  Finally I entered the French version of the game and it seemed like people were standing around doing nothing. In the end, this was not for me. (Though to be fair I didn't give it a lot of time.)
Next, I tried Drakensang – a multiplayer online game where you kill monsters and walk around the world.  I was bored by the time I found people and couldn't imagine going on a mission in that world, much less discussing it in another language.  That's when I realized the simple answer was to look for a first person adventure game in French for the PC. (Not to play online with real people.) This would make it much easier to play a game.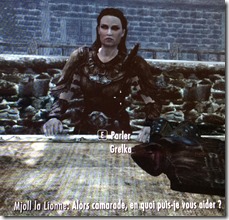 I started asking around about which games people liked.  Many people like Skyrim– a game that takes place in a mythological world where you go on missions and talk to virtual (not real) people. I found out that there's a version of Skyrim in French. It's also available in English, Italian, Japanese, German, Spanish, Polish, Czech, and Russian.
Now, how to get the game?
Steam is a good place to buy video games.  They make it easy to download and change the language settings. It also keeps your games for the long haul to re-download when desired. Sometimes they have deals on computer games. (Note:  This is not an ad. I genuinely find it easy to use.)
I bought Skyrim on sale from Steam for (the cheapest option) $4.99. I downloaded it and then found out how to change the language of the game.
Here's how to change the language of a game on Steam once you've bought it:
(More language instructions on Steam)
Log into your Steam account
Right click on a game from the Steam game library and choose Properties.
Go to the Language tab
Select the language you wish to use from the drop-down menu
Click OK
If the game supports the language you have selected, files for that language may need to be downloaded before you can play.
Once you learn the general vocabulary for video games in the language you're learning – simple terms like "save game" – you have to contend with the game's own vocabulary. A game like Skyrim has all sorts of strange names for its characters, creatures and places since it takes place in a mythological world.  This can make understanding more difficult. In Skyrim, the characters also speak very quickly.  I'd recommend turning on the subtitles so you can read along while you listen to the dialog.  Go to the "parameters" menu to turn on the subtitles in Skyrim.  In French choose:
Paramètres (parameters) – Affichage (display) – click on all options for "Sous-titres" (subtitles)
Most games have a subtitle option even in English.
If you're having trouble understanding what to do in the game, you can go to Google and search for a "walk-through".  It will tell you what you have to do in different parts of the game.  This can help a lot in a foreign language.
After playing Skyrim for a few days and many hours, I finally got bored.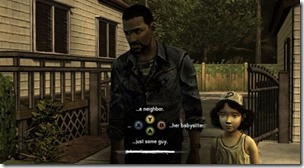 Next, I wanted to try The Walking Dead (zombie) video game, since I'm a fan of the show. I had actually played the game in English about a year and a half ago and it was fun.  I also already owned it on Steam. So I figured even if I played it in French for just a couple of hours, I had nothing to lose.  Plus I would learn zombie related post-apocalyptic-world vocabulary.  Everyone needs to know that! lol
I changed the language options of The Walking Dead game on Steam following the same instructions as above (it did give an option for French) and I loaded up the game.  The game started but the players were speaking in English with French subtitles.  So this wasn't a good game to play to learn French – or any other language outside of English. I'm not interested in playing a game with only the subtitles in another language!
Another game I played is called Syberia. Syberia is an adventure game that was released in 2002. Your character is a lawyer who has to find the inheritor of a company that makes wind-up toys.  You walk around the world solving fun puzzles to achieve your goals. 
After playing the game for a couple of hours, I realized I had played it in English over ten years ago. That didn't really matter since I didn't remember it too well. The dialog was spoken more slowly than in Skyrim and the vocabulary was more down-to-earth. This was an easier game to play in another language.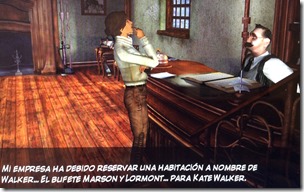 Syberia cost $9.99 to download from Steam. It's also available in English, Italian, Japanese, German, Spanish, Polish, and Russian. I checked the Spanish version to make sure the characters actually speak in Spanish and they do.
If you like Syberia, there's a sequel called Syberia 2 that came out in 2004. They're currently working on Syberia 3 and it's supposed to be released this year.
Finally, I tried Civilization V in French.  It's a strategy game where you start as a primitive culture and over time try to dominate the world. If you really want to get into this game I recommend reading strategy guides.  Carl's Civ V Stragedy Guide in English exhaustive. There's a Civ V Guide in French if you'd like to read about it in French.
If these types of games aren't for you, search around for the type of game you like and try it in the language you're learning.  Even if you only have the menus in the target language, it's a good way to pick up new vocabulary.
This week I went to my French conversational group and I felt more comfortable speaking the language.  I attribute that in part to having been immersed in French games for the past couple of weeks. 
Playing computer games in a foreign is a great way to improve your skills!
Feel free to let us know in the comments below about any games you've played to help your language skills.
Happy Gaming!
Mama Lisa
Images: Second Life Photo from Wikipedia
Walking Dead Game Photo from Wikipedia
This article was posted on Thursday, June 4th, 2015 at 8:31 pm and is filed under Countries & Cultures, Czech, Czech Republic, English, France, French, Games Around the World, German, Germany, Italian, Italy, Japan, Japanese, Language Learning, Languages, Languages, Learning, Mexico, Poland, Polish, Recommendations, Russia, Russian, Skyrim, Spain, Spanish, Syberia, USA, Video Games. You can follow any responses to this entry through the RSS 2.0 feed. You can skip to the end and leave a response. Pinging is currently not allowed.
4 Responses to "Improve Your Language Learning with Real Video Games"
Leave a Reply