This is a Holi song. Holi (होली) is an Indian and Nepali spring festival that celebrates the victory of good over evil and the arrival of spring. It's also known as the "festival of colors". People throw colored powders at each other and drench each other with water. Everyone is fair game! This happens in most outdoor public spaces, along with singing and dancing.

You can find the pronunciation in the Song Notes.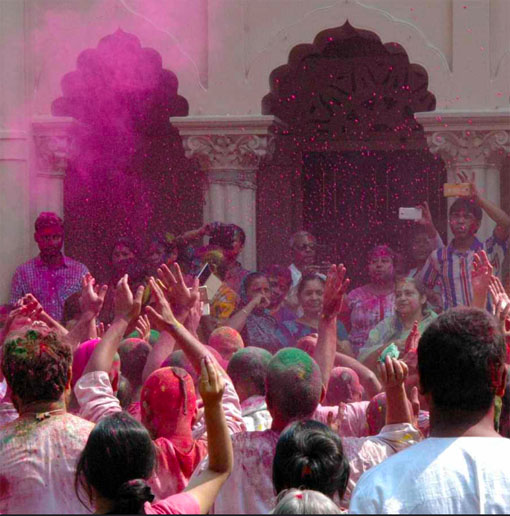 रंग बिरंगी होली आई
(Rang Birangi Holi Aayi)
Colorful Holi is Here
रंग बिरंगी होली आई
धूम मचाती होली आई
बच्चों की है टोली आई
रंग गुलाल उड़ाती आई
पिचकारी में रंग की गोली है
होली है भई होली है होली है
Colorful Holi is here
Creating clamour, Holi is here!
Here too is the children's gang
Spreading colors and festive powder*.

The water guns are filled with bullets of colour
It is Holi everyone, Holi it is!

Notes
*Gulaal is the traditional festive colored powder that's thrown in the air for Holi.

Pronunciation:

Rang Birangi Holi aayee
Dhoom Machaati Holi aayee
Bachchon ki hae toli aayee
Rang Gulal Udaati aayee

Pichkari mein rang ki goli hae
Holi hae bhyee holi hae holi hae
Thanks and Acknowledgements
Many thanks to Mohit Ishar for sharing this song with us, for the translation and the pronunciation!
धन्यवाद