Lohri – A Punjabi Bonfire Festival in India & Pakistan
January 11th, 2016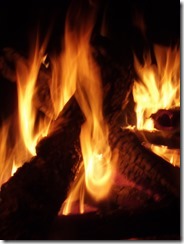 Lohri is a Bonfire Festival that takes place in the Punjab region of India and Pakistan after the beginning of winter.  This year it's celebrated on January 13th.
Lohri commemorates the passing of the Winter Solstice. An important part of the festival is lighting a bonfire. The light is a symbol of the days getting longer.
Jaggery (a type of cane sugar), sesame seeds, peanuts and radishes are harvested around January, so dishes made with these items are part of the festival.
Sesame seeds and jaggery are considered to be foods which keep the body warm. Sesame seeds are called "til" and jaggery is "rorhi". When you combine them you get "tilrorhi" – which was eventually shortened to "Lohri" – the name of this festival.
In the days leading up to the festival, teenagers sing songs and go house-to-house asking for logs for the bonfire and for food items related to the festival that they can later sell for money.
On the day of the festival, younger children go door-to-door singing songs. They're given peanuts, sesame seeds, sweets and money. Being stingy when giving out the treats is considered bad luck.
One song the kids sing is:
Dabba bharaya leera da
Ai ghar ameera da

(Box filled with cloths strips.
This is a house of the rich!)
If the kids are not given sufficient treats, they chant:
Hukka bhai Hukkaa
Ai ghar bhukka

(Hukka! Oh! Hukka!
This house is full of misers!)
People also wear bright colors and fly kites.
At sunset, a bonfire is lit. People throw sesame seeds, popcorn and candy on the fire and sing songs. You can learn a Lohri song here.
Happy Lohri!
Mama Lisa
Image: "Happy Lohri" by Karen Sandhu, c.c.
This article was posted on Monday, January 11th, 2016 at 10:13 pm and is filed under Countries & Cultures, Customs and Traditions, Going Door-to-Door, Holidays Around the World, India, Lohri (Winter Festival), Makar Sankranti, Pakistan, Seasonal, Winter, Winter Solstice. You can follow any responses to this entry through the RSS 2.0 feed. You can skip to the end and leave a response. Pinging is currently not allowed.
Leave a Reply