Holi Desserts
March 1st, 2018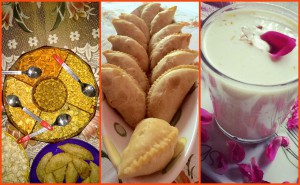 Holi is a Spring Festival that's celebrated in India. It's known as the festival of colors. This year it's celebrated March 1st to 2nd.
As we're always interested in cuisine around the world, we asked Amrita Singh on Facebook what they eat in India for dessert for the holiday. Here's her response:
"For Holi traditional desserts, savouries are made as well as milkshakes and cold drinks. Dry fruit stuffed sweets called gujhiyas are very popular as well as a variety of chips and pappadoms laddus and burfis and so much more. This is a Hindu festival but people of all faiths enjoy the fun and food."
Amanda added, "Gujhiyas are amazing! Little crescent moons of dough fllled with coconut, raisins and whatever else the chef likes to add!"
Here are links to recipes for some of these Holi desserts:
Enjoy & Happy Holi!
Mama Lisa
Photo: By Ms Sarah Welch – Own work, CC BY-SA 4.0
This article was posted on Thursday, March 1st, 2018 at 1:57 pm and is filed under Countries & Cultures, Cuisine, Desserts, Holi, Holidays Around the World, India, Indian Cuisine, Mama Lisa, Recipes of the World. You can follow any responses to this entry through the RSS 2.0 feed. You can skip to the end and leave a response. Pinging is currently not allowed.
Leave a Reply