This is a Santa Lucia rhyme. Santa Lucia (St. Lucy) is the patron saint of the city of Syracuse in Sicily, where she was born. Her name comes from the Latin word "lux" meaning "light". She's a symbol of there being more light as the days grow longer after the winter solstice.

In some parts of Italy, there are parades on December 13th, on Santa Lucia's Day. In some regions, Santa Lucia is the one who brings gifts for children. She travels with her donkey and her companion named Castaldo. Children can't watch her deliver the gifts or it's said she'll throw ashes in their eyes!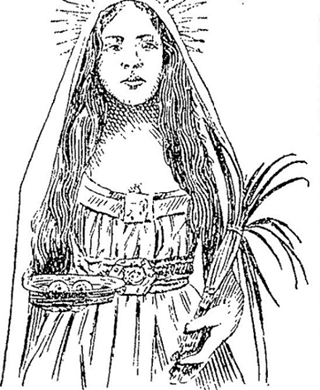 Zitti, zitti fate piano
Hush, Hush, Softly
Santa Lucia Rhyme
Santa Lucia Rhyme
Zitti, zitti fate piano
vien la Santa da lontano,
porta a tutti dolci e doni
soprattutto ai bimbi buoni.
Ma se un bimbo è cattivello,
oltre tutto un po' monello,
nulla trova nel tinello.
Quindi bimbi birichini
diventate un po' bravini,
e i cuoricini tutti spenti
con la Santa si fan contenti.
Grazie, grazie Santa Lucia,
il tuo incanto mi porti via.
Hush, hush, softly,
The Saint comes from afar,
She brings everyone sweets and gifts,
Above all to good children.
But if a child is naughty,
And also a little rascal,
He'll find nothing in the dining room.
So, mischievous children,
Be a little nice
And dull hearts will
Be made happy by the Saint.
Thank you, thank you, Saint Lucy,
Let your enchantment take me away.
Thanks and Acknowledgements
Thanks to Emanuela Marsura for helping with the translation. Final translation by Monique and Lisa.