This is a Santa Lucia rhyme. Santa Lucia (St. Lucy) is the patron saint of the city of Syracuse in Sicily, where she was born. Her name comes from the Latin word "lux" meaning "light". She's a symbol of there being more light as the days grow longer after the winter solstice.

In some parts of Italy, there are parades on December 13th, on Santa Lucia's Day. In some regions, Santa Lucia is the one who brings gifts for children. She travels with her donkey and her companion named Castaldo. Children can't watch her deliver the gifts or it's said she'll throw ashes in their eyes!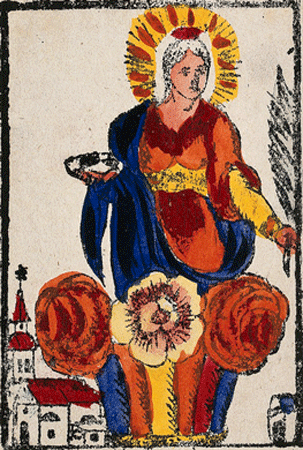 Questa è la notte di Santa Lucia
This is Santa Lucia's Night
Santa Lucia Rhyme
Santa Lucia Rhyme
Questa è la notte di Santa Lucia
senti nell'aria la sua magia.
Lei vola veloce col suo asinello
atterra davanti ad ogni cancello.
Ad ogni finestra un mazzolin di fieno
e l'asinello ha già fatto il pieno.
Santa Lucia con il suo carretto
lascia a tutti un gioco e un dolcetto.
Porta ai bambini tanti regali
tutti belli, tutti speciali.
This is Santa Lucia's night,
Feel her magic in the air.
She flies fast with her little donkey,
Landing in front of every gate.
At every window, a bundle of hay
And the little donkey is already filled up.
Santa Lucia, with her little cart,
Leaves to all a game and a sweet.
She brings the children lots of gifts,
All of them beautiful, all of them special.

You can hear part of this rhyme sung in the first part of the video below...


Thanks and Acknowledgements
Translated by Monique Palomares and Lisa Yannucci.

Image: Saint Lucy, coloured lithograph, wikicommons cc.