This is a round for 3 voices. Keep repeating the round in a canon for a beautiful effect!
Vent frais, vent du matin
Fresh Wind, Morning Wind
Vent frais, vent du matin,
Soulevant le sommet des grands pins,
Joie du vent qui chante, allons dans le grand…
Wind, fresh, wind of the morn,
Lifting the treetops of the great pines,
Joyful wind that sings, let's walk in the great…
Notes
According to Wikipedia (in French), this is the version from Switzerland. The main difference between this version and the French version is in the last line: "Joie du vent qui chante...".

This is usually sung to the same tune as the English round "Heigh-ho! Anybody Home." In the midi music on this page you can hear its most well-known tune.
Comments
Please email me to let us know if this is the version you sing in Switzerland. Thanks! -Mama Lisa

Sheet Music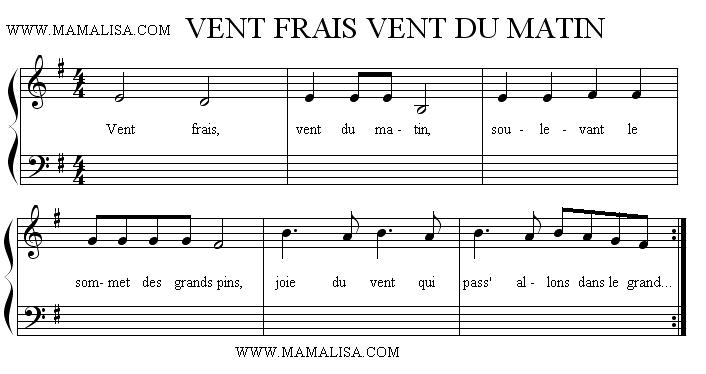 Thanks and Acknowledgements
Translation by Lisa Yannucci and Monique Palomares.
Merci beaucoup !