Swiss Chocolate Almond Spice Cookies Called Basler Brunsli
December 22nd, 2016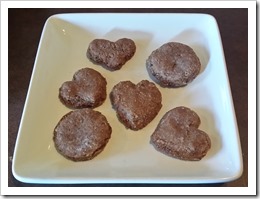 Basler Brunsli are traditional chocolate almond cookies that are made for Christmas in Switzerland. They're spiced up with cinnamon and cloves.  In my recipe, I cut the normal amount of clove powder in half. You can double it if you like more spice. For the chocolate, I used Ghirardelli chocolate chips.
Recipe for Basler Brunsli  – Swiss Chocolate Almond Spice Cookies
Makes 75 Cookies
Ingredients
2 1/4 cup Whole Almonds  (12 oz./350 g.)
1 1/4 cup Chocolate Chips – Semi-sweet or Bittersweet (8 oz./225 g.)
1 2/3 cup Sugar (375 g.)
2 1/2 teaspoons Cinnamon
1/4 teaspoons Ground Cloves (1/2 t. for stronger taste)
3 Egg Whites
Confectioner's Sugar

1. Line 2 cookie sheets with parchment paper.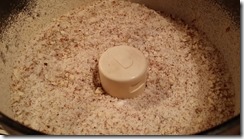 2. Grind up the almonds in a food processor.
3. Add sugar and grind together.
4. Add chocolate chips and grind until the chips ground into very small pieces.
5. Add cinnamon and ground cloves and grind together.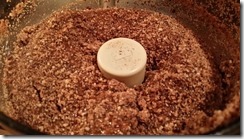 6. Add egg whites and grind together until you get a stiff dough.
7. Powder a clean surface with confectioners sugar. Dust your rolling pin with confectioner's sugar. Dust the top of the dough with confectioner's sugar.  Roll out the dough to 1/4" thick (about 6mm)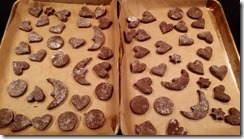 8. Cut out shapes with cookie cutters that are about 2 inches wide. Place the shapes on the cookie sheets. Reroll excess dough and repeat until all of the dough is used.
9. Let sit for 1 1/2 – 2 hours.
10. Preheat oven to 325 F (165C).
11. Let cook for about 12 – 15 minutes until they start firming up.
12. Store in a cookie tin.
Enjoy!
Mama Lisa
Leave a Reply