Lyrics and music by Alice Tegnér (1864-1943).The lyrics were inspired by Swedish author Wilhelm von Braun's poem "Stark i sin oskuld" (Strong In His Innocence) which was inspired by an actual event.
Mors lilla Olle
Mother's Little Olle
Children's Song
Children's Song
Mors lilla Olle i skogen gick,
Rosor på kinden och solsken i blick.
Läpparna små utav bär äro blå.
"Bara jag slapp att så ensam här gå!"

Brummelibrum, vem lufsar där?
Buskarna knaka. En hund visst det är…
Lurvig är pälsen, men Olle blir glad:
"Åh, en kamrat, det var bra se god dag!"

Klappar så björnen med händer små,
räcker fram korgen: Se där, smaka på!
Nalle, han slukar mest allt vad där är:
"Hör du, jag tror, att du tycker om bär."

Mor fick nu se dem, gav till ett skri.
Björnen sprang bort, nu är leken förbi.
"Å, varför skrämde du undan min vän?
Mor lilla, be honom komma igen!"
Mother's little Olle went into the forest,
Roses on his cheeks and sunshine in his gaze
His small lips of berries blue,
"If only I didn't have to walk so alone."

Brummelibrum, who's waking there?
The bushes are cracking, it's a dog of course.
His fur is shaggy but Olle is happy,
"Oh, a friend, that's good, yes good day!"

He pets the bear so with his small hands,
He offers the basket, "Look here have a taste!"
Teddy he devours most of what's there,
"Listen, I think you like berries!"

Mother saw them now, she gave a cry.
The bear ran away, now playtime is over!
"Oh, why did you scare away my friend?
Little mother, ask him to come back again!"
Notes
Olle is a Swedish boy's name.

Sheet Music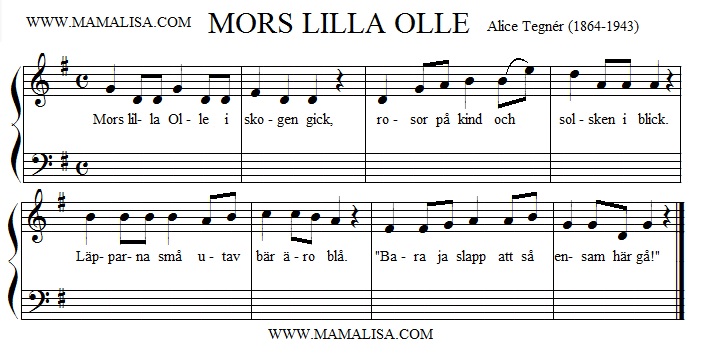 Thanks and Acknowledgements
Many thanks to Kaitlyn for contributing this song and translating it and for providing a score.
Tack så mycket!