Der bor en bager på Nørregade
There is a Baker on North Street
Children's Song
Children's Song
Der bor en bager på Nørregade,
han bager kringler og julekage.
Han bager store, han bager små,
han bager nogle med sukker på.

Og i hans vindu' er sukkersager
og heste, grise og peberkager.
Og har du penge, så kan du få,
men har du ingen, så må du gå!".
There is a baker on North Street*,
He bakes pastries and Christmas cakes.
He bakes big ones, he bakes small ones,
He bakes some with sugar on top.

And in his window there's candy
And horses, pigs and gingerbread.
And if you have money, then you can get some,
But if you have none, then you must leave!
Notes
*The street name "Nørregade" translates literally to "North Street".
Comments
This Danish song was rewritten by the Swedish songwriter Alice Tegnér in Swedish as Sockerbargaren.

Sheet Music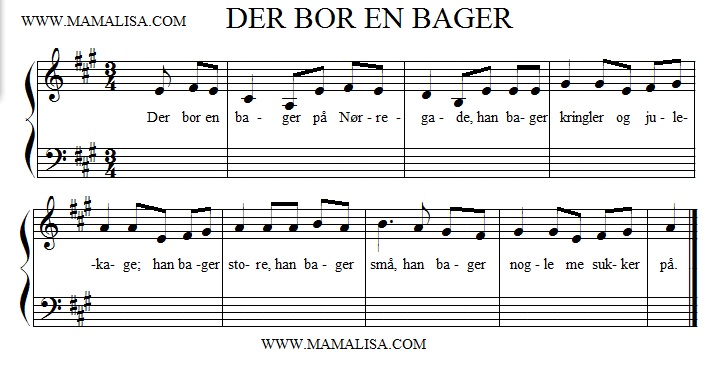 Thanks and Acknowledgements
Translated by Monique and Lisa.