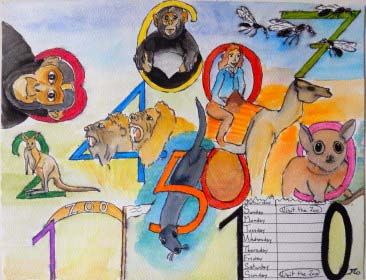 One, One, The Zoo is Lots of Fun
One, one, the zoo is lots of fun!
Two, two, I saw a kangaroo.
Three, three, I saw a chimpanzee.
Four, four, I heard the lions roar.
Five, five, I saw the seals dive.
Six, six, the chimpanzee did tricks.
Seven, seven, angel ants in insect heaven.
Eight, eight, camel rides are great!
Nine, nine, I heard a bush baby whine.
Ten, ten, next week, I'll come again!

Thanks to Corrina D. for singing this song for us!

The version in the YouTube:

1, 1 The zoo is lots of fun!
2, 2 See a kangaroo.
3, 3 See a chimpanzee.
4, 4 Hear the lions roar.
5, 5 Watch the seals dive.


Please
let us know
if you think this video has been taken down by YouTube.
Thanks!
Thanks and Acknowledgements
Many thanks to Chloe Gioia for sharing this song!

Illustrated by Monique Palomares.