The winter festival of Makara Sankranti is marked in the Kumaon region of Uttarakhand in India in a special way. The celebration signals the change of the seasons and the return of migratory birds. It's called the Festival of Kale Kauva (Black Crows) or Ghughuti (the name of another local bird).

People make deep-fried treats out of flour, cane sugar and ghee. The dough is formed into the shapes of pomegranates, drums, shields, and swords. Once they're cooked, the shapes are threaded to make necklaces called ghughuti (same name as the bird), with an orange in the middle. Children wear them when they wake up in the morning.

The kids go outside and call to the crows in invitation to return to the land:

"Kale Kale, bhol bate aile!" (Black, Black, come home now!)

They offer the birds food from their necklaces, asking for blessings in return.

After making the offering to the birds, the kids get to wear their necklaces for the day, munching on the treats whenever they want.

They also chant these lines...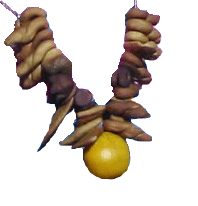 काले कौवा काले
Black, Black Crow
काले कौवा काले घुघुति माला खाले
ले कौवा बड़ा मकें दे सुणो घड़ा
ले कौवा ढाल मकें दे सुणो थाल
Black, black crow, eat this ghughut necklace
Black crow eat lagad and badaa*, give me a gold pitcher
Crow, take away the shield**, give me a gold plate***.

Notes
*"Lagad" is puffed poori bread and "badaa" is a type of deep-fried lentil ball.
**The food offering
***blessings

Pronunciation:

Kale kauva kale, ghughuti mala khale,
Kale Ie Kauva bara, mai ke de sunu gharo,
Ie Kauva dhal, mai ke de sunu thai.