In the past, this was an important song for American immigrants from Sweden.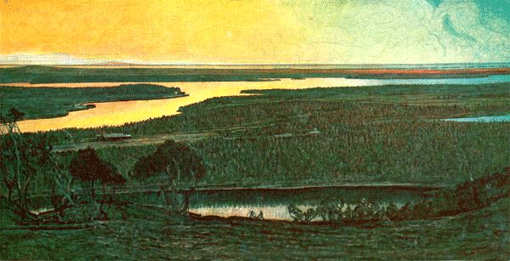 Hälsa Dem Därhemma
Greetings to Those Back Home
Traditional Song
Traditional Song
I den stora tysta natt,
Står jag här vid skeppets ratt,
Under himlens stjärnehär,
Man på post mig satt.
Efter lång och strävsam dag,
Hör jag fjärran vingeslag,
Svalors flock som återgår
Mot nord, mot ljus, mot vår.

REFRÄNG:
Hälsa dem därhemma,
Hälsa far och mor.
Hälsa grona hagen,
Hälsa lillebror.
Om jag hade vingar
Flöge jag med dig,
Svala, flyg mot hemmet,
Hälsa ifrån mig.

Lilla Svala, fastän svag,
Dag och natt, och natt och dag,
Förer dig till målet fram snabba vingeslag.
Svala Tänk också på mig!
Gärna flyger jag med dig!
Hemma står väl ängen grön,
O, svala hör min bön.
In the great silent night,
I stand here at the ship's wheel,
Under heavenly stars,
I'm at my post.
After a long and hard-working day,
I hear the distant echoes of
Flocks of swallows returning
Towards the north, towards light, towards Spring.

(Chorus)
Greetings to those back home,
Greetings to father and mother.
Greetings to the green fields,
Greetings to little brother.
If I had wings
I would fly with you,
Swallows, fly towards my home,
Greetings from me.

Little swallows, although weak,
Day and night, night and day,
Rapid wing beats bring you towards your goal.
Swallows, remember me too!
I'd happily fly with you!
Home is well in the green meadow,
Oh swallows, hear my plea.
Notes
1st published in Danish 1922
Danish Lyrics by Ludvig Brandstrup
Swedish Lyrics by Charles Bengtsson (1878 - 1942)
Music by Elith Worsing (1893 - 1923)