Calaveras (Skulls) are poems that are written for The Day of the Dead holiday. This one is well-known...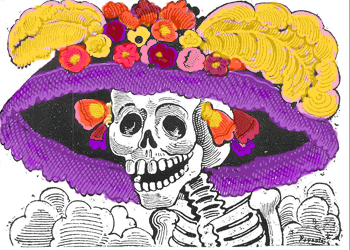 Poema del Día de los Muertos
Day of the Dead Poem
Ahí viene el agua
Por la ladera,
Y se me moja
Mi calavera.
La muerte calaca,
Ni gorda, ni flaca.
La muerte casera,
Pegada con cera.
Here comes the water
Down the slope
And my skull
Is getting wet.
Death, a skeleton,
Neither fat, nor skinny.
A homemade skeleton,
Stuck together with wax.*
Notes
*This refers to the skulls and skeletons that are made to decorate the altars for the dead.

This guy in the video below raps this Calavera with a dance...
Please
let us know
if you think this video has been taken down by YouTube.
Thanks!
Thanks and Acknowledgements
Image: José Guadalupe Posada (edited by Mama Lisa)