Finger and Toe Naming Rhymes...

"I am a Swedish grandmother. This is how I learnt the finger and toe naming rhyme in Swedish..." -Christina

Part of the rhyme is nonsense.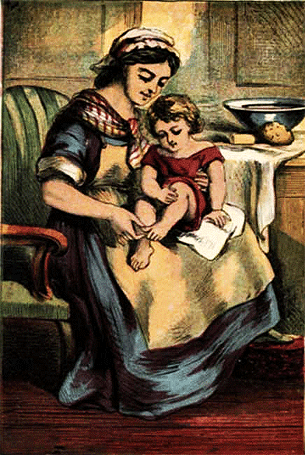 Tummetott, slickepott
Thumb Tot, Spatula
Finger Naming Rhyme
Finger Naming Rhyme
Fingrar (1):
Tummetott,
Slickepott,
Långeman,
Gullebrand
Och lille vicke vire.

Tår (2):
Lilltåa,
Tåtilla,
Tillerosa,
Kroknosa
Och stortoppen opp i väre.


Fingers Rhyme (1):
Thumb tot,
Spatula,
Long one,
Gull fire,
And Little Vicky Vire.

Toes Rhyme (2):
Little Toe
Tatilla
Tillerosa,
Hook Nosa,
And the big top up.
Notes
Tillerosa and Tåtilla are nonsense words.
Game Instructions
(1) You start with the thumb.
(2) You start with the smallest toe.
Comments
Anna wrote, "Here is the rhyme with Swedish spelling:

Tummetott
Slickepott
Långeman
Gullebrann
och lille Petter speleman

[English Translation:

Thumb tot,
Spatula,
Long one,
Gull fire,
And Little Peter Fiddler plays.]

This is a well known and often used rhyme naming the fingers. In another version [see above] the last finger is named 'och lilla Vickevire'."
Thanks and Acknowledgements
Many thanks to Christina Blom for sharing these rhymes with us and for helping to translate them! Thanks to Anna for sharing another version.

The first illustration comes from The National Nursery Book.
Tack!