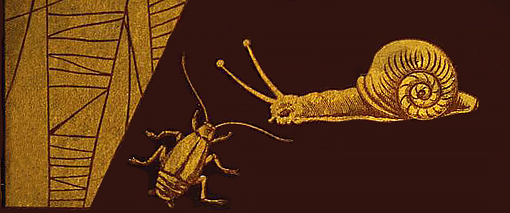 Vine melcul supărat
Here Comes the Snail
Children's Song
Children's Song
Vine melcul, supărat,
O furnică l-a pişcat
Şi cum vine pâş-pâş-pâş,
Întâlneşte-un cărăbuş.

Şi din gură el striga
Fugi de-aicea, nu mai sta !
Dă-te-ncolo ! Nu sta-n drum,
Că te iau în coarne-acum!
Here comes the snail, and he's upset,
He was bitten by an ant
And as he comes slowly, slowly,
A stag beetle gets in his way.

The snail shouted:
"Go away from here,
Go away, out of my way,
If not I'll take you in my horns."







<!!!!!!!!!!!!!!!!!!!!!!!!!!!!FRENCH!!!!!!!!!!!!!!!!!!!!!!!!!!!!>

Roumain

Voici venir l'escargot

Voici venir l'escargot fâché,
Une fourmi l'a piqué.
Et tandis qu'il vient, pchhh, pchhh, pchhh,
Il rencontre un scarabée.

Et il se met à crier
"File d'ici, ne reste pas là,
Va-t'en, ne
Sheet Music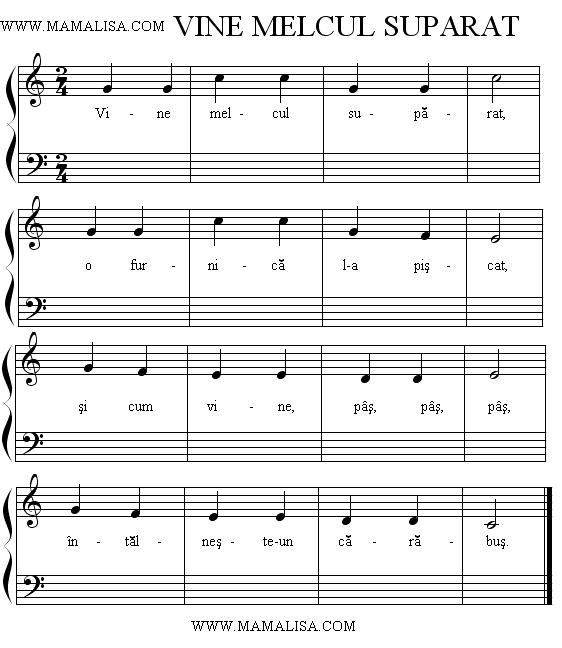 Thanks and Acknowledgements
Many thanks to Adrian Danila for sharing this song and the video and for translating it into English.
Mulţumesc mult!