The Symbolism of the Egg
February 23rd, 2008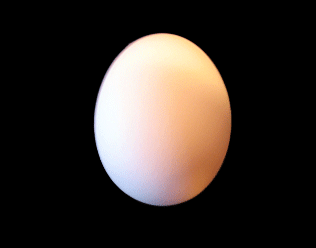 As Easter approaches, it's natural to think a little about eggs!
In days gone by the egg, due to its shape, was a symbol of the earth. Thanks to its obvious association with the beginning of life, it has also been the basis of many ancient creation stories. It has been a symbol of fertility, rebirth and the cycle of life. These latter symbols are so close to what Springtime is all about that it's no wonder it's been an important part of Spring celebrations since pre-Christian times.
As Europe became Christian, eggs became a symbol of Easter and the resurrection of Jesus. In the past, Christians gave up eggs for Lent (the 40 days before Easter when it's customary to give up different types of food). But even though people didn't eat them, the hens kept laying them! So people would hard boil and decorate them.
The egg is also part of the Jewish Passover holiday that takes place in the Spring. The egg is placed on the Seder plate and is a symbol of sacrifice and loss. Yet to some it also symbolizes the full cycle of life, and therefore hope and rebirth. (The egg is a more recent addition to the Seder plate compared to the other symbolic items that are found there and its symbolic meaning seems to be more open to interpretation.)
In China, red eggs are given out at the one month birthday of a new baby. It's customary to hold a Red Egg and Ginger Party at this time. Once again, the source seems to be the egg's role as a symbol of fertility and the beginning of life.
So here we come full circle (or oval) with the egg as a wonderful symbol of birth, renewal and rebirth. This is something wonderful to consider as Springtime approaches in the northern hemisphere, where the Earth will soon come back to life!
Feel free to let us know about any special symbolism of the egg in your culture in the comments below.
This article was posted on Saturday, February 23rd, 2008 at 4:22 pm and is filed under Austria, Belgium, Birth Customs, Bulgaria, China, Countries & Cultures, Customs and Traditions, Czech Republic, Denmark, Easter, Easter Eggs, England, France, Germany, Greece, Holidays Around the World, Hong Kong, Mama Lisa, Passover, Poland, Red Egg and Ginger Parties, Romania, Russia, Scotland, Seasonal, Seder, Slovakia, Slovenia, Spring, United Kingdom, USA, Wales. You can follow any responses to this entry through the RSS 2.0 feed. You can skip to the end and leave a response. Pinging is currently not allowed.
8 Responses to "The Symbolism of the Egg"
Leave a Reply