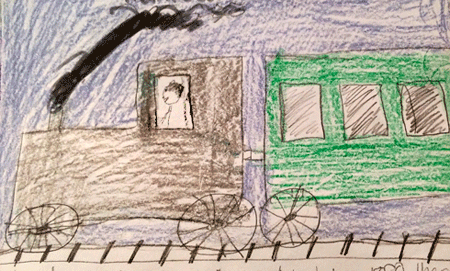 Chuchuk rylu vasthundi
Shugh, Shugh, Train is coming along...

Children's Song
Children's Song
Chuchuk rylu vasthundi
pakkak pakkak jaragandi
aageenanka ekkandi
jo jo paa paa eduvaaku
laddu mittai thinipistha
garam paalu tagipistha
Shugh shugh train is coming along...
Get off, get off the railroad
When it stops, all aboard!
Wee, wee! Baby don't weep.
Sure, will feed you lots of laddu-n-sweets
Sure, will feed you warm milk.

Notes
Laddu-n-sweets are two kinds of Indian desserts. Laddu is made of chickpea flour, sugar, and butter, it's round in shape; mettai is made with thick milk and sugar it is also round in shape but it's pressed.
Thanks and Acknowledgements
Many thanks to Kavitha Gali for contributing and translating this rhyme.

Thanks to Lila for the illustration!
Dhanyavaadaalu!