"Good King Wenceslas" was written in 1853 by the Englishman John Mason Neale. The tune is from a spring carol from the 13th Century called "Tempus Adest Floridum".

"Good King Wenceslas" has become a Christmas song, even though it sings about St. Stephen's Day, the day after Christmas.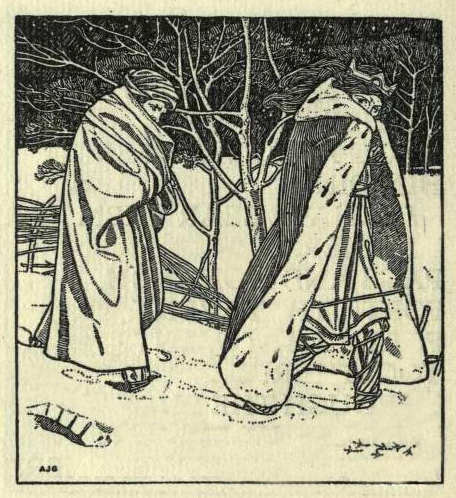 Good King Wenceslas looked out
On the feast of Stephen
When the snow lay round about
Deep and crisp and even
Brightly shone the moon that night
Though the frost was cruel
When a poor man came in sight
Gathering winter fuel.

"Hither, page, and stand by me
If thou know'st it, telling
Yonder peasant, who is he?
Where and what his dwelling?"
"Sire, he lives a good league hence
Underneath the mountain
Right against the forest fence
By Saint Agnes' fountain."

"Bring me flesh and bring me wine
Bring me pine logs hither
Thou and I shall see him dine
When we bear them thither."
Page and monarch forth they went
Forth they went together
Through the rude wind's wild lament
And the bitter weather.

"Sire, the night is darker now
And the wind blows stronger
Fails my heart, I know not how,
I can go no longer."
"Mark my footsteps, good my page
Tread thou in them boldly
Thou shall find the winter's rage
Freeze thy blood less coldly."

In his master's steps he trod
Where the snow lay dinted
Heat was in the very sod
Which the Saint had printed
Therefore, Christian men, be sure
Wealth or rank possessing
Ye who now will bless the poor
Shall yourselves find blessing.
Notes
About King Wenceslas

Wenceslas was born in 907. He was actually the Duke of Bohemia, not a king. Bohemia is now an area of the Czech Republic.

The story of "King" Wenceslas is a sad one. When he was 13 his father was killed in battle. His mother, Drahomira, became the ruler of Bohemia. She seems to have been a pagan. His grandmother taught Wenceslas Christian ideals. His mother was threatened by this and had his grandmother killed. Two years later she was deposed in an uprising and King Wenceslas became the ruler of Bohemia. He was said to be an honest, kind man. He even allowed his mother to move back into the castle with him. Unfortunately, his evil brother Boleslav murdered him in 929.

King Wenceslas eventually became a saint. He is the patron saint of Bohemia and Czechoslovakia and of Czech beer brewers. According to BeerHistory.com, "Because Bohemian hops were so valued, Wenceslas ordered the death penalty for anyone caught exporting the cuttings and obviously endeared himself to the local hop growers and brewers."


The first, third, and fifth verses are performed in the first recording below.
1st MP3: Sung by the U.S. Army Band.
2nd MP3: Sung by Kara Shallenberg.
3rd MP3: Sung by Tomas Peter.
Sheet Music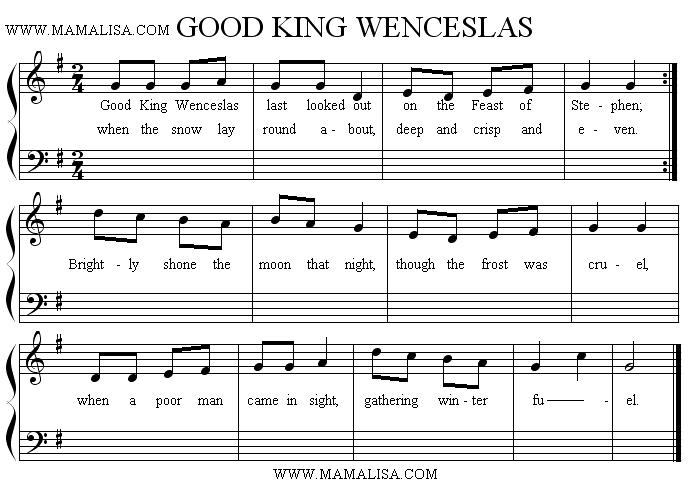 Thanks and Acknowledgements
Image: "Good King Wenceslas", picture by Arthur Caskin, 1904.