"This is a brief song that children may sing around the holiday Sinterklaas and in it they basically ask Sinterklaas to get dressed and come to Holland :-) I believe you know that he 'lives' in Spain and the word 'Tabberd' refers to a toga-like garment as seen in pictures." -Francisca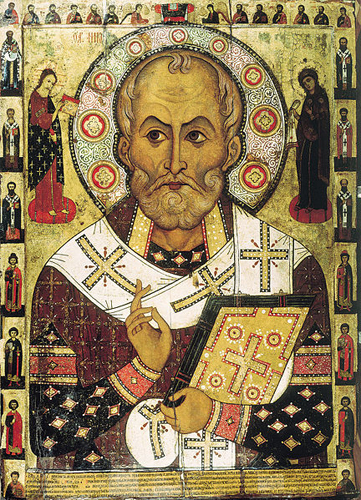 Sinterklaas, goed heilig man
Sinterklaas, Good Holy Man
St. Nicholas Day Song
St. Nicholas Day Song
Sinterklaas, goed heilig man
trek je beste tabberd an
rijd ermee naar Amsterdam
van Amsterdam naar Spanje
appeltjes van oranje
pruimpjes aan de bomen
Sinterklaas zal komen!
Sinterklaas, good holy man
Put on your best cloak*
Ride with it to Amsterdam,
From Amsterdam to Spain,
Apples from Orange**
Prunes on the trees
Sinterklaas will come!
Notes
*A tabberd is a sleeveless cloak.
**Appeltjes van oranje (Apples from Orange) - This can refer to a dowry or it can simply mean "oranges".

Many thanks to F.S. for the translation and the recording!

Sheet Music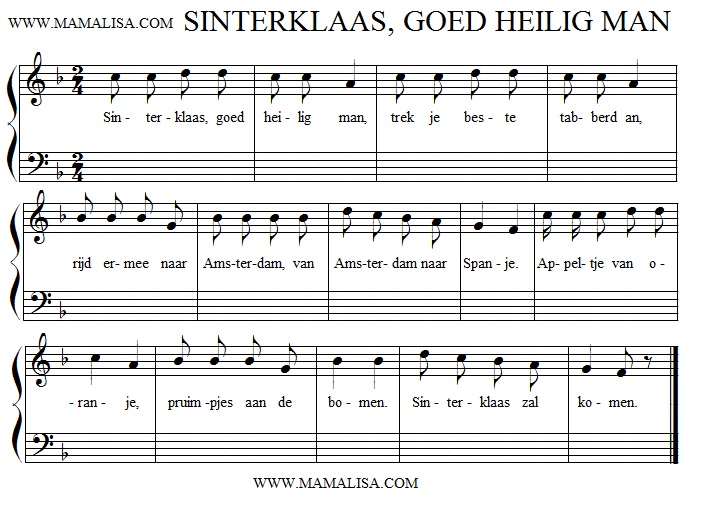 Thanks and Acknowledgements
Image: St. Nicholas "Lipensky" (Russian icon from Lipnya Church of St. Nicholas in Novgorod), Aleksa Petrov, 1294.
Dank u wel!