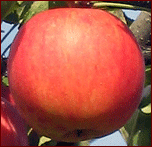 Wer kann denn diesen Apfel tragen?
Who Can Carry This Apple?
Fünf Finger stehen hier und fragen:
"Wer kann denn diesen Apfel tragen?"
Der erste Finger kann es nicht,
Der zweite sagt: "Zuviel Gewicht!"
Der dritte kann ihn auch nicht heben,
Der vierte schafft das nie im Leben.
Der fünfte aber spricht:
"Ganz allein, so geht das nicht!"
Gemeinsam heben kurz darauf
fünf Finger diesen Apfel auf.
Five fingers stand here and ask,
"Who can carry this apple?"
The first finger cannot do it,
The second one says: "Too heavy!"
The third one cannot lift it either,
The fourth clarifies, "Never in my life."
The fifth one however, says:
"All alone, this will not work!"
Shortly thereafter, all together
Five fingers lift up this apple.
Thanks and Acknowledgements
Translation and Photo: Mama Lisa