"That reminds me of my childhood. It's for choosing in games like Hide and Seek, etc." -Amrita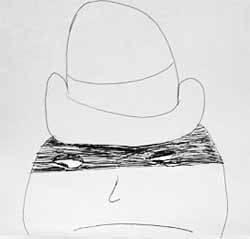 अक्कड, बक्कड़, बॉम्बे बो
Akar bakar bombay bo
Counting-out Rhyme
Counting-out Rhyme
अक्कड, बक्कड़, बॉम्बे बो,
८०, ९० पूरे १००,
सौ पे लगा धागा,
चोर निकल के भागा.
Akar bakar bombay bo
80, 90, a full 100
100 threads went in the needle
The robber ran away.
Notes
Pronunciation:

Akar bakar bambay bo
Asi nabay pooray sao
Sao mein lagga dhaga
Chor nikal ke bhaga.

Thanks and Acknowledgements
Translation by Lisa. Many thanks to Amrita Singh for verifying that our translation is correct.

Thanks to Lila for the illustration.
Dhanyavad!