Aserrín, aserrán
Saw, Sawdust
Canción infantil
Children's Song
Aserrín,
aserrán,
los maderos
de San Juan,
piden pan,
no les dan
piden queso
les dan hueso
piden vino
si les dan
se marean
y se van
Saw,
Sawdust,
The woodsmen
Of San Juan
Ask for bread,
They're given none,
Ask for cheese,
They're given a bone,
Ask for wine,
If it's given,
They get dizzy
And they go.
Notes
Geoffrey wrote, "Just wanted to submit some additional lyrics for Asserin Asseran with a slightly less grisly ending."
Game Instructions
The way to play 'Aserrín, aserrán' is: child riding the adult's knees, the adult holds the child's hands and makes a push and pull saw movement."


Sheet Music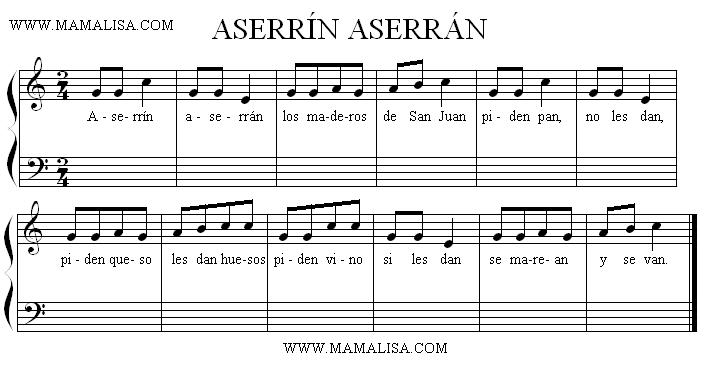 Thanks and Acknowledgements
Thanks to Geoffrey Blackmer for contributing and translating this song for us!

Photo: Wikipedia
¡Muchas gracias!